The Data Handbook
How to use data to improve your customer journey and get better business outcomes in digital sales. Interviews, use cases, and deep-dives.
Get the book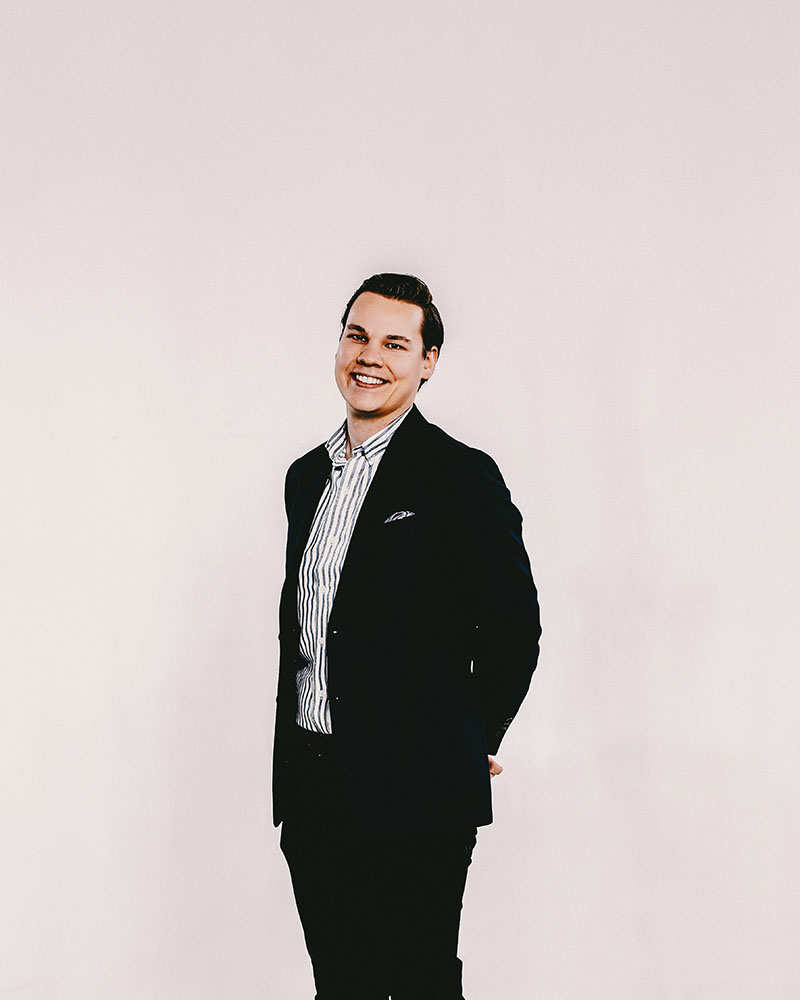 Roope Paju
Martech
LinkedIn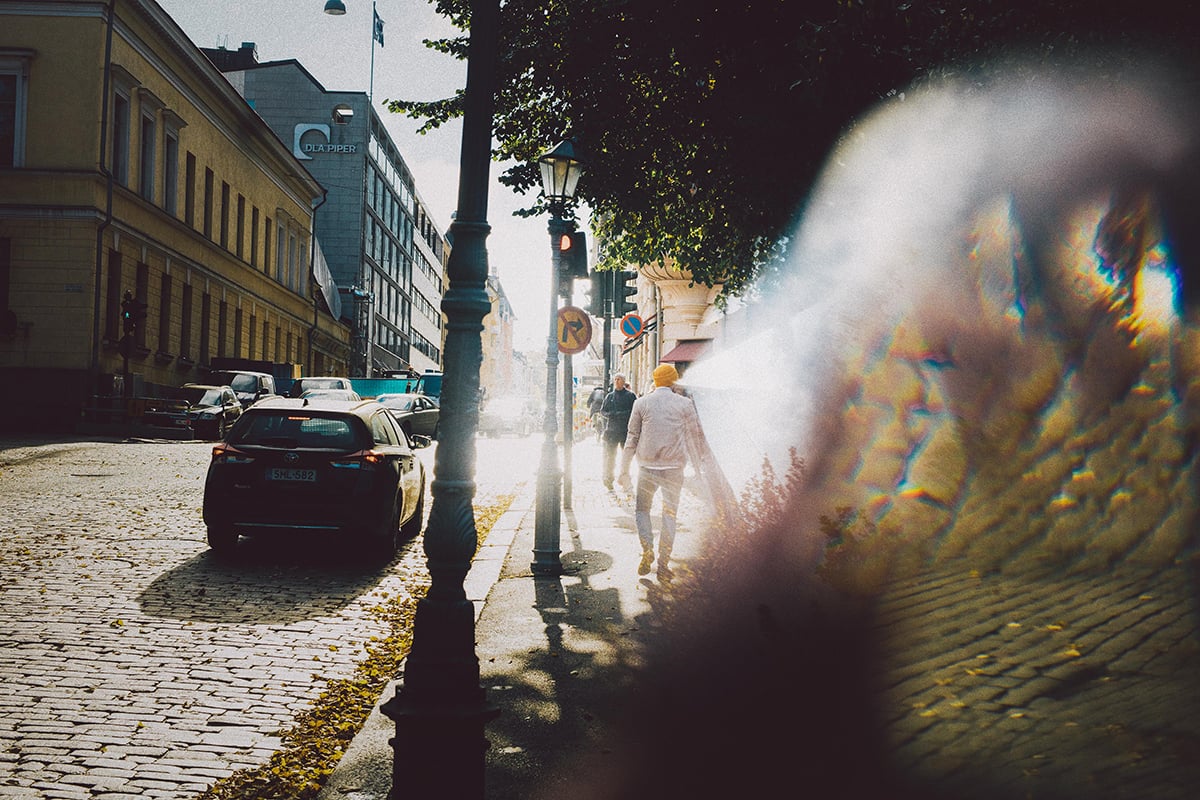 This blog was co-written with my amazing colleague Meri Yrjänen, thank you!
As the general maturity of companies in digital sales and marketing is advancing, competition around the best customers is also tightening. Companies adopting an account-based approach have identified it as a way to distinguish themselves from the competition by unifying their sales approach and aligning it with the customer organisation.

The account-based sales approach seems to be becoming the industry standard for the leading B2B sales organisations. Its successful implementation in some cases has led to a striking 75% increase in the annual contract value (Gartner, 2019). Nevertheless, having a singular outstanding Key Account Manager will not be the solution here. Read on to learn how your company can adopt the approach and elevate customer experience to a new level.


Building thought-out and unified customer relationships
The backbone of account-based sales is to ensure that everyone who is working with the account shares the ownership of the customer relationship. If your sales culture endorses the idea of a singular Key Account Manager responsible for all communications with the target account, the account-based sales process also rests on one pair of shoulders.
Managing and growing key customers tends to rely too much on individual salesmen (KAMs). Sales directors focus too heavily on coaching individual salespeople to perform better when the most significant opportunity for holistic growth is quality team play with marketing and sales development experts.

To reduce risk and increase the effectiveness of your account-based endeavours, you should consider adopting an account team model of shared account management with multiple different roles in addition to Account Managers.
Here are some ideas of what these roles could be:
1. Marketer responsible for account-based marketing content
The alignment of marketing and sales functions is a constantly growing topic and a very relevant part of the account-based approach. When your team has chosen to invest increased efforts into a selected target account, the message needs to be coherent across different channels to achieve effectiveness and authenticity. A sales culture where the Marketing Specialist responsible for account-based marketing content and distribution is an integral part of the account team supports the co-alignment of sales and marketing.
2. Scale with sales development representatives
A more novel sales advancement that has significant potential also when it comes to an account-based approach is the implementation of sales development. Especially with large customer organisations, one or two Account Managers, often with responsibilities also for other customers, have limited resources to focus on expanding the customer relationship to its full potential. By including a Sales Development Representative (SDR) into the account team, you can significantly increase your visibility of the customer organisation and reach of your personalised 1-to-1 contacting.


3. Insights from specialists who are already working with the client
If you are already providing the customer you focus on with professional or support services, you have specialists with a valuable understanding of the organisation and perhaps even closer relationships with some customer decision-makers than the Account Managers. It's crucial that these specialists feel they are sharing the ownership of the account. Get them to share their information and to think about their stakeholder relationships from the perspective of sales demands.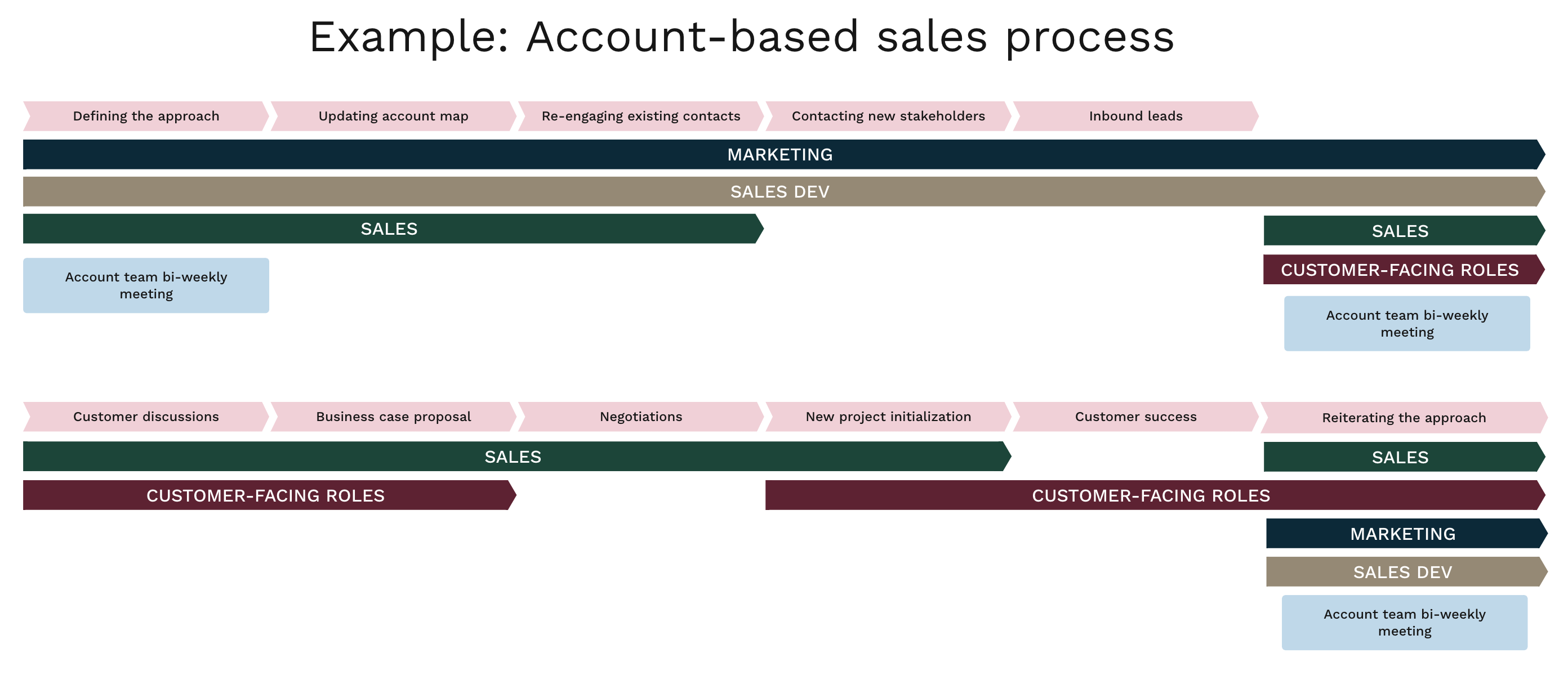 Example of an account-based sales process
How do you go about building an account team then? Just create a shared Teams/Slack channel for all of the most potential accounts, add the account team members, and wait for results? Unfortunately, it's not that simple. For many sales organisations, implementing a strategic account-based approach in all customer engagement requires significant changes to ways of working. Getting the account team members to share their ideas and feel motivated to drive your sales requires them to feel shared ownership of the account, participate in planning sessions, and share the glory from won business opportunities. Most importantly, the account team needs to be a team with shared goals and a roadmap.

After understanding what changes are needed in your sales organisation to support the creation of successful account teams, it's time to get to work. Nevertheless, this is only one of the steps. You need to have a roadmap for the account-based sales process that your account team can adopt and customise. Next, we will take a look at the other steps.


How to get started with Account-Based sales?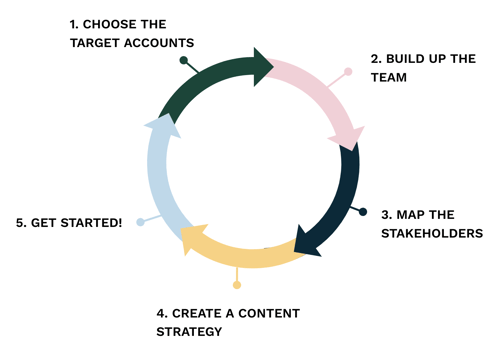 Step 1: Choose the target accounts
The selection of target accounts is still far from strategic in many B2B organisations. Yet, choosing specific accounts for account-based activities is a crucial part of the process. Account-based efforts take resources – therefore, you need to select accounts in which the efforts will be paid off. Think about their size: how big are they, what is their yearly revenue, is the company growing fast? Is the company a global player that operates in many countries, and do you have the potential to expand abroad? Could you also help other business divisions than the ones you are currently helping? Are the companies your existing clients with established relationships or do you want to go for a completely new, potential "big fish"?
Step 2: Build up the team
As mentioned before, an account-based approach is a team effort, and therefore, it is crucial to distinctly determine the team that is working around that account. Create the team for the account, add calendar invites for internal account meetings, put up a communication channel for the team, and determine the rules and practices for cooperation.
Step 3: Map the stakeholders
When the target account has been determined, it is time to start mapping the stakeholders of that account. Collect all the information you have available in your CRM and have a chat with the account managers about the different divisions and business areas. Sync with the team about which business units could benefit the most from your services or products. Choose the business units and the stakeholders you want to start targeting and contacting.
Step 4: Create a content strategy
Tweak your value proposition and decide on the key message for the specific account. Collect all the relevant reference cases and use them wisely in the selected channels. Think about the content for your LinkedIn advertising campaigns, for your emails, and the potential landing pages.
Step 5: Get started!
Start targeting the chosen company with your personalised emails and highly segmented online advertising campaigns. Add every note and detail to your CRM and keep your team up to date about the progress of your efforts. Iterate your message based on the feedback to get the most optimal results. Build relationships with the prospects and go the extra mile to get to know them on a personal level.
Long-term value for your clients and your company
What does the account-based approach look like from your customer's perspective then? The best-case scenario is that you will always be there to help your customer in numerous new ways. You will be seen as a trusted advisor, who actually listens to the customer and is always there for them.

When everyone in your company is thinking of ways to bring the best value for your customer and you are constantly communicating that in client interactions, the client will start to trust you and your expertise. The relationship might develop to a whole new level where both of you will become an important part of each other's businesses.
Hungry for more insights? Learn what sales development is about
Curious to learn more about the best practices for the account-based approach and specifically what sales development has to offer for your company? Watch our Sales Development 101 on-demand webinar, to get a deep dive into sales development, a best practice for modern sales processes that especially all B2B companies should follow.
Learn more about the processes and tactics of sales development and get concrete next steps for getting started with sales development.
The Data Handbook
How to use data to improve your customer journey and get better business outcomes in digital sales. Interviews, use cases, and deep-dives.
Get the book