Professional growth at Columbia Road
Read what it is like to work at Columbia Road and what are the many learning opportunities.
See open positions
Professional growth
You are the captain of your learning journey
In a community-led and self-directed company such as ours, the learning opportunities are abundant but also the responsibility of each individual developer, designer and marketer. Limitless learning budget, endless certification options and continuous learning through client work are facts that are all true.
The real value of these opportunities is and should be defined by each Roadie in order for the learning path to support and elevate the skills of everyone in the most fruitful way. You be you.
The core decision-making framework at Columbia Road is called 3x2. It's a tool for taking any decision at the company and it gives freedom to individuals in our community-led organisation to make those decisions that affect their work. In addition, 3x2 is also helpful in planning your learning journey. You can get to know the framework in more detail from our Culture Code book.
In a self-managed environment such as ours, you have all the freedom and responsibility to plan the best possible learning experience for your individual needs. We have structures, suggestions and support to help you decide when and what to learn. Your own motivation will define how much you want to learn and in which areas you want to develop professionally.
For me, it has been essential to be able to develop my skills in ways that support my learning habits. I have the freedom to choose how, where and when and I have an unlimited budget to make all my learning wishes come true.
FRANCK SMULTER, SENIOR MARKETING TECHNOLOGY CONSULTANT
Continuous learning
The Learning Loop
One of the ways we're structurally supporting learning is the Learning Loop, which guides every single Roadie from day one. It is a mix of assisted elements and individual preferences driven by each and everyone's motivation.
We're setting you up for success through support from a senior Roadie with a similar competence focus via 1-to-1s during onboarding. In these discussions, you will be guided to create your learning plan and find your way to learn and develop at Columbia Road. We will discuss how you like to learn, how we're facilitating learning and look into organised and unofficial opportunities for learning.
The Learning Loop looks different for each Roadie, and that's the magic of it! It's a loose framework with a lot of options for customisation. We encourage everyone to think about learning from different perspectives: professional skills, domain knowledge, substance knowledge and consulting.
Here you can see the Learning Loop on a high level.
We have such a wide variety of learning opportunities that I feel like I'll always have something new to take on. By working in the customer context I get to hone my skills in a vast variety of programming languages, technologies and frameworks. In addition, our internal learning environment is flexible, allowing me to focus on the things that matter to me.
Tuuli Tiilikainen, Senior Software Developer
LEARNING WITH CLIENTS
While we offer a multitude of opportunities for learning, client work is the ultimate chance to learn the most. That is simply because most of us spend almost all of our time with clients.
We do our best to find the best match between our client needs with our consultants' wishes for learning and development Sometimes it's a new technology, sometimes people skills.
What you learn in a project is much defined by how open you are to new adventures and opportunities to take the mental position of an apprentice.
COMPETENCY WEEKLIES
Each consultancy competency at Columbia Road organises weekly or biweekly learning sessions on current and interesting topics.
Topics range wide from highly optimised static page generation to how new privacy laws are affecting targeting and how personalisation is changing design and brands.
The weeklies are for sharing answers to problems you've discovered, for helping others, for hearing about new development in your field and sometimes for welcoming speakers from other organisations and learning from them.
LESSONS LEARNED
One of the key ways to learn at a consultancy is to work in a variety of contexts, industries and organisations.
The projects are sometimes straightforward, sometimes challenging. They can be full of quick wins or long term bit-by-bit building. At all times, they are unique learning opportunities.
We want to make sure that those learnings are available for all Roadies and organise monthly Lessons Learned sessions that are focused on sharing stories and learnings that have made a difference.
CHECKPOINTS & MENTORING
Checkpoints are our way of getting feedback and planning for professional development. They are not performance reviews and are 100% up to each Roadie to plan. You can choose the person to have the checkpoint with, you can choose the topic and you can choose the method.
A set of Roadies have been educated as Mentors, who have skills and tools to hold supportive, meaningful and inspirational checkpoints. The Mentors will guide you, but you get to choose what kind of discussion is best for you.
THE ROADIE COMMUNITY
There is no question, problem or even a passing thought that would ever go unnoticed if you voice it out. You can rely on the support of a community that goes out of its way to support each other.
Be it on Slack, face-to-face, on a huddle or Meet - maybe even a good old phone call - you have 150+ software development, design and marketing technology experts at your service.
Or if you're looking for a nice place to dine, sign up for a great CrossFit gym, know where to invest your money or find a pet sitter, you can do that too!
Ways to learn
Professional development opportunities come in many shapes and forms
The Columbia Road Culture Code
In the Culture Code book Roadies write about how we see, feel, and live Columbia Road's culture, values, and mission.
And everyday life, including learning and professional development in more detail.
Learn more
Good Impact Program
Good Impact is an open-source and social impact program sponsored by Columbia Road. We enable our people to do good by contributing to initiatives that are close to their hearts and minds.
A great way to learn new skills or brush up on existing ones in a novel context.
Learn more
Creating content as a way to learn
Our handbooks, canvases, and blog has hundreds upon hundreds of pages of content written by Roadies on topics related to digital commerce and digital growth.
Contributing to the blog is one of the key ways to learn and share new skills and knowledge. An excellent way to build your own professional brand as an expert in topics near and dear to you.
Research of future phenomena
We are active in various academic communities and see huge learning potential in educating ourselves on future trends and phenomena.
We research and create yearly reports and toolkits on digital commerce & growth topics together with experts from academia all over the world.
Academic contributions
For several years, we have been an official partner of Aalto's masters programs. We also have close ties to the Wharton College of the University of Pennsylvania and teach at Hyper Island in Stockholm.
We see educating young talent as a way to grow future talent but also as a way for us to stay on top of academic research in our field and learn about future technologies and opportunities.
The variety of work with our clients and the multidisciplinary nature of the teams help me to develop professionally on a daily basis. In addition to that, thanks to our community, I get to learn about many topics ranging from inclusivity to mentoring and recruitment.
SANDRA FERNÁNDEZ, SENIOR DESIGNER
Learning in practice
There are as many ways to learn as there are people. We want to give every Roadie the opportunity to find the best ways for them to develop professional skills. To support that journey and to give some inspiration, we have a catalogue of tens of different pieces of training, courses, certifications and peer sessions everyone can choose their favourites from. Here's a small glimpse into that offering.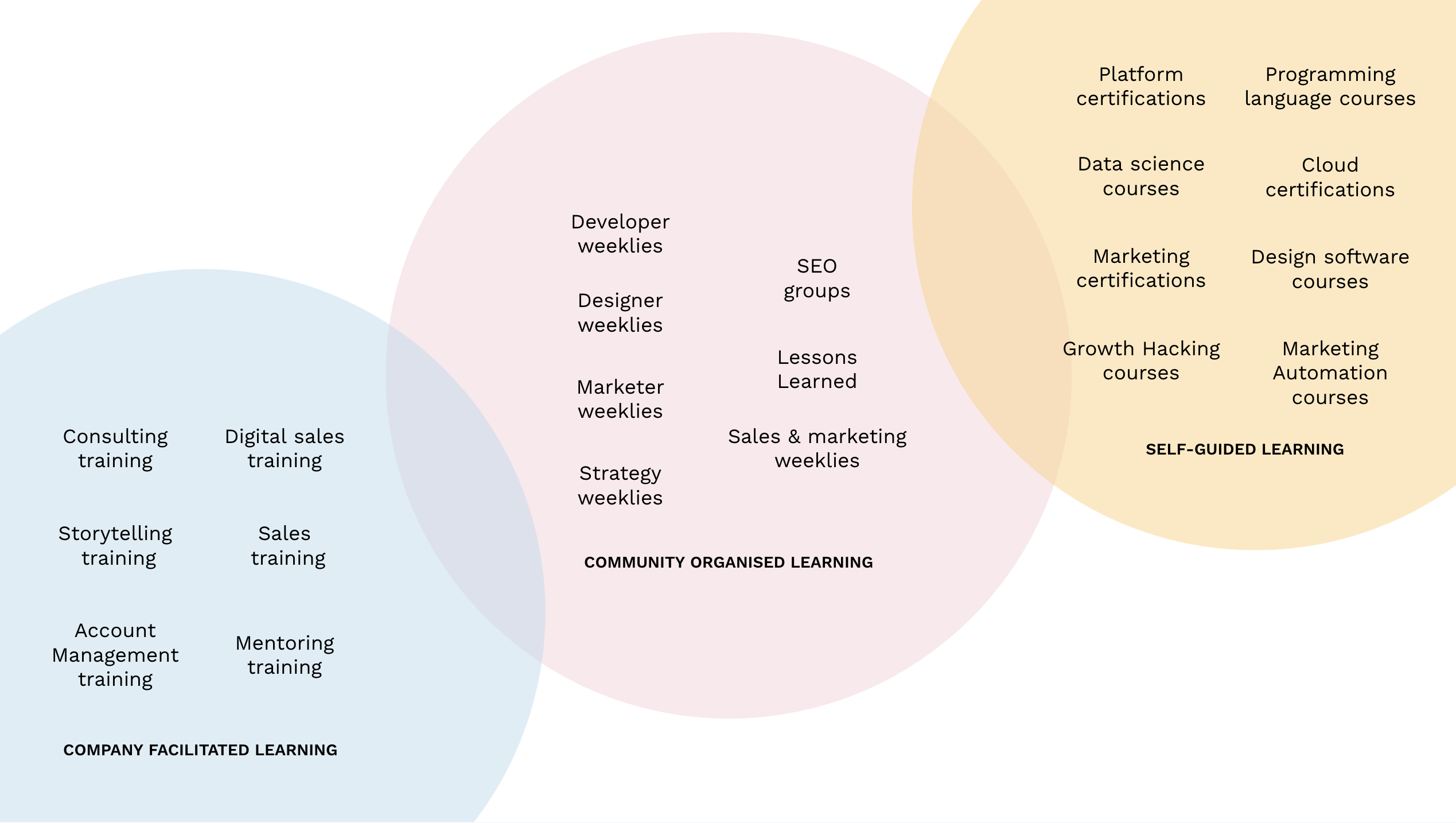 Join us
We're a great place to work
In both Glassdoor and Tunto, an anonymous employer rating service, Columbia Road's current overall grade is 4.9/5. The grade includes areas such as future prospects, salary & benefits, colleagues & community and a safe company culture.
Open positions