Our approach
First, before Columbia Road joined the project, Futurice did a series of service vision sprints to gain an idea of Matsmart's current status and to find out the pain points. Looking at the technology, business, user experience, and design, Futurice proposed a service design for the new website. Columbia Road then worked closely together with Prototyp on agile user testing. Utilising Matsmart's extremely engaged customer base, we at Columbia Road got quick insights into the preferences and user patterns of Matsmart's customers for optimising conversions and user experience on the new website.
We gathered 100 customers in Sweden and 100 in Finland to A/B test different website features. We focused on optimising buying buttons, product views, filters, sorting, category display and logged-in state so customers could save their favourites. Many different variants were tested in a short amount of time. We helped Matsmart set up a data-driven approach to make small tweaks often to drive higher conversion rates throughout the funnel.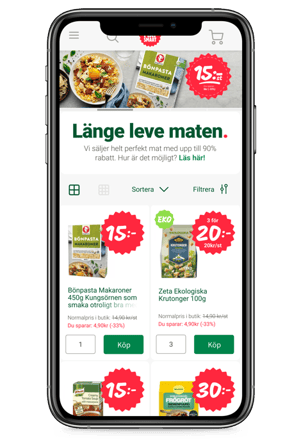 The findings from the service vision sprint and user testing resulted in a redesigned and optimised online marketplace, smart and easy-to-use categories and labels for campaigns, a new check-out flow for optimising conversions and ready-made templates for creating new content.
In addition, we worked closely with Martsmart to create a new, agile way of working on new solutions within the company. From product owners, sales and marketing to customer service, designers, data analysis and developer teams. Utilising the knowledge and input from all areas of the organisation, changing small things but fast, to keep the business moving on a weekly basis.
Impact
Matsmart's website is its main interaction point with potential customers. Columbia Road helped Matsmart create a website with high usability and pleasing aesthetics and, above all, make it highly converting. Within 12 months of the redesign by Columbia Road, the new optimised marketplace and design impacted the browsing and shopping behaviour of around 3 million end-users. The large majority of them are on mobile.
By wearing the sustainability lenses on the entire case together with Matsmart we were able to create smart new solutions that optimised conversions by making it more tangible for their customers how to be more sustainable and make it easier to shop. We received great feedback from the user testing groups, who also came up with new ideas of features they would like to see in the future. New design implementations made it easier for the customer to grasp the impact of their shopping behaviour and make smarter, more sustainable choices based on that.
Being more sustainable, one conversion at a time.
The project resulted in a website with the following:
Increase in sessions reaching the checkout
Increase in sessions with add to cart
Bounce rate improved
Better usability and higher engagement on the site
The Data Handbook
How to use data to improve your customer journey and get better business outcomes in digital sales. Interviews, use cases, and deep-dives.
Get the book