The Data Handbook
How to use data to improve your customer journey and get better business outcomes in digital sales. Interviews, use cases, and deep-dives.
Get the book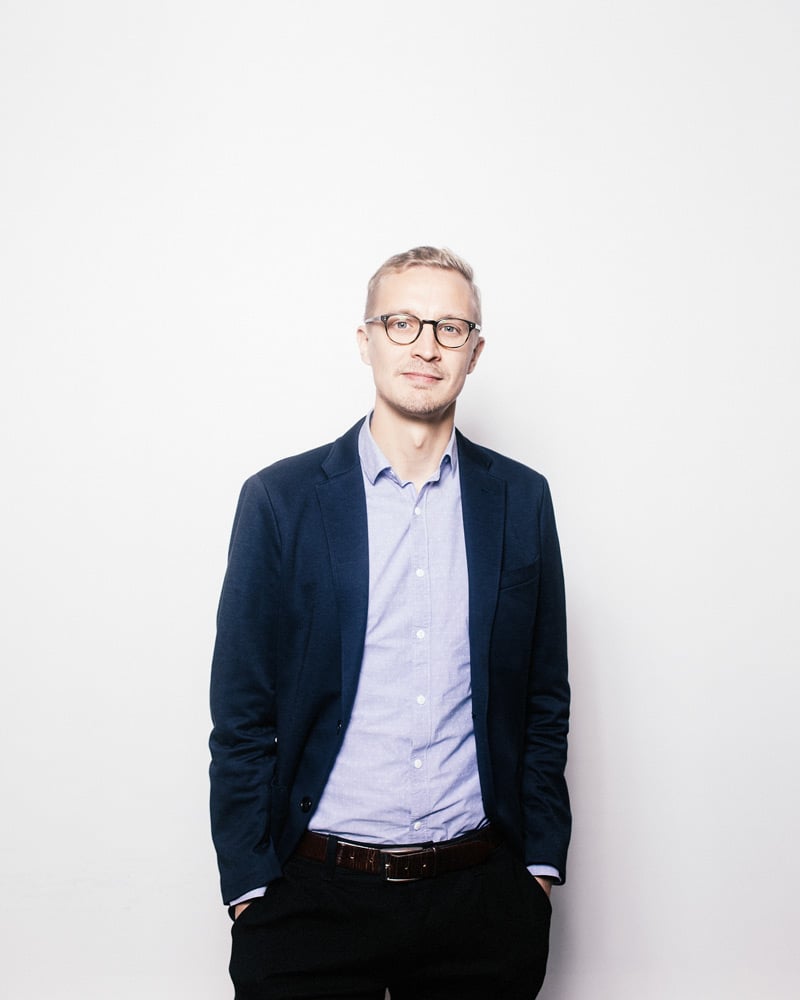 Ville Loppinen
Business development
LinkedIn
Marketing leaders that were interviewed in Gartner's 2017-2018 CMO Survey said that they invested two-thirds of their budget in supporting customer retention and growth. With so many customers oscillating between phones, tablets, game consoles, desktops and laptops, many marketers are desperate for a unified view of the customers. They seek an effective way to efficiently collect, manage and use their first-party customer data. Yet, like unicorns and yetis, the elusive unified single view of the customer is easier found in dreams than in reality. The technology systems identifying as Customer Data Platforms (CDPs) have yet to settle on standard capabilities.
What is a Customer Data Platform?
CDPs hold multiple definitions with slight variations, but usually, one is defined as a platform that:
aims to bring together all customer data and combine the data together into unified customer profiles
is managed and used by marketing, but can also support all relevant stakeholders (i.e. sales)
should include behavioural, transactional and profiling data an organisation has on its customers, which can also be enriched with 3rd party data.
Most often, it's either a single platform, or a combination of tools and microservices, with the main objective of helping marketing and sales to utilise customer data more comprehensively.
"86% of CMOs believe that they will be able to own a complete, end-to-end customer experience by 2020." - The Economist
The main needs for a CDP can usually be divided into three different categories:
Marketing automation and CRM needs; Marketing automation and CRM tools need to have the best possible customer and lead data in use for lead collection and nurturing, customer retention, activation, up-selling and building great customer experiences.
Data visualisation and reporting needs; Data visualisations and reporting tools need to have all relevant and correct data from all possible sources to analyse, predict and forecast business.
Online advertising needs; Using owned customer data and audiences for more effective online advertising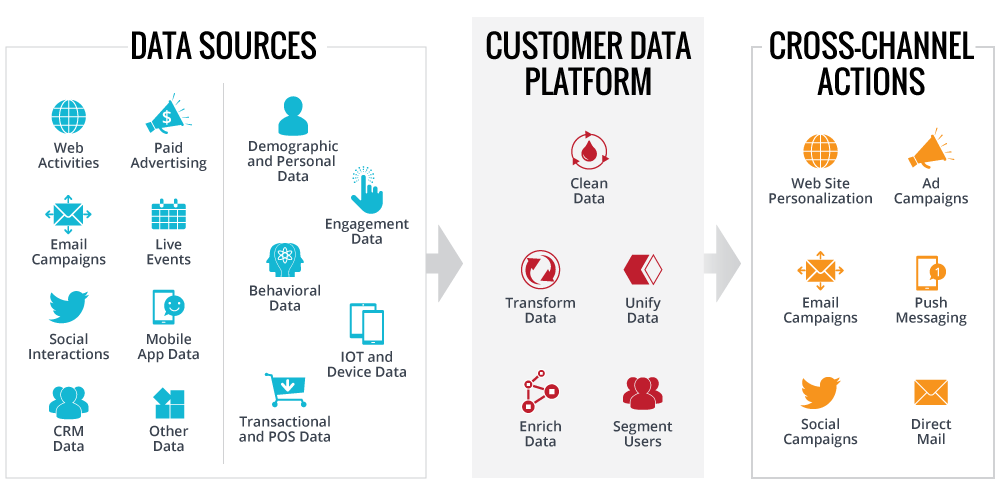 Graph from Element Solutions
How is a CDP different from a DMP, marketing automation tool or a CRM system?
There may be a misconception about a CDP providing the same functions as a Data Management Platform (DMP), marketing automation tool or a Customer Relationship Management (CRM) tool, but this is not the case. Organisations typically use CDPs together with DMP & CRM tools.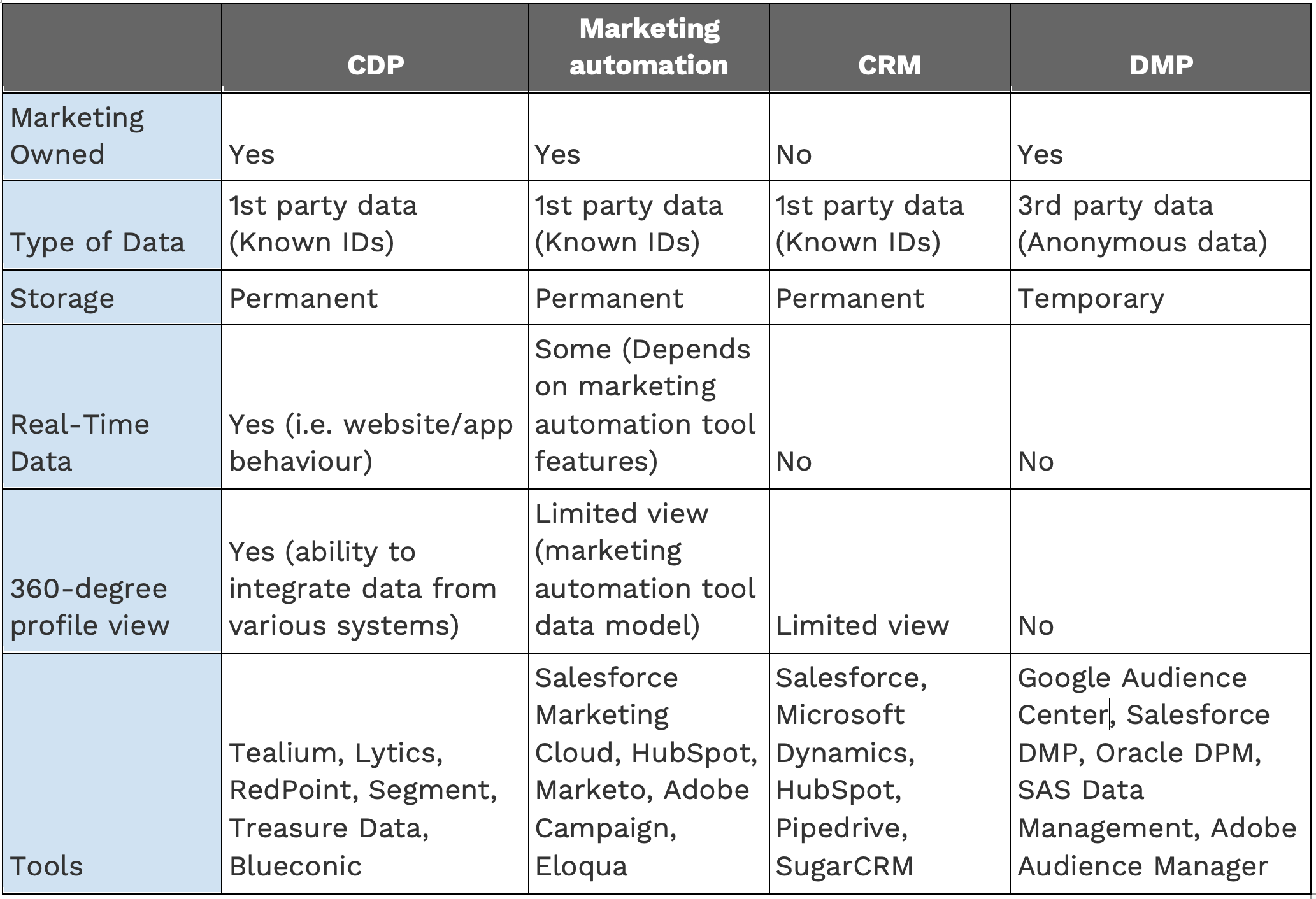 A DMP allows organisations to target anonymous audiences based on 3rd party data. It helps to identify potential individuals based on demographic data including age, gender, salary, etc. taking into account the behaviour or data provided on third-party sites. This data is not permanent data (i.e. you can't pull up past data), it is temporary and contingent upon the lifespan of a cookie, which usually is around 90 days. DMPs usually have limited ability to integrate with first-party data.
CRMs are one of the most frequently used customer engagement tools containing processes for sales enablement, customer service, and field service, and they do capture permanent customer history. However, like a DMP, they only capture data from a limited amount of transactions, usually direct transactions and interactions. CRMs are typically not managed by marketers.
Marketing automation tools are, in most cases, based on features which automate lead, retention and up-sell processes using customer and lead data. Usually, marketing automation tools have their own data models to store entity and property data. To get most of the functionalities to work, companies have to streamline their own data models to work with the tool. This usually means data integration projects from backend systems, including various data cleaning and arrangement processes.
CDPs, on the other-hand, store first-party data that is gathered from various first-party sources such as web and mobile, CRM and other offline data sources, transactions, and other behavioural data. CDPs can also integrate with third-party data platforms in order to further create a 360-degree view of the clients. CDPs (typically owned by marketers) are real-time and allow marketers to take action immediately when a trigger occurs. Also, since the data is permanent within the CDP, marketers can look at past data and create custom audiences as needed with a lot of flexibility.
When a CDP is integrated with a DMP, it can provide significant value to organisations not only to understand customers based on first-party data, but also on third-party data. Example of various profiled data that can be leveraged for campaigns when CDP, marketing automation and a DMP are combined, leading to highly personalised customer experience:
Web behaviour data (page view, location / time zone, CTAs/buttons/links clicked, number of visits)
Social conversation data (social shares/likes/followers, link shares)
Campaign metrics (emails opened/clicked, ads clicked, ads shared, landing pages visited)
CRM: Customer service data (tickets, complaints, inquiries, customer feedback, NPS)
CRM: Sales tool data (leads, opportunities, lead times, lead values, lead scores, customer lifetime values)
Demographics data (age, address, hobbies, interests, industry, buyer persona, etc.)
Apps and IOT data (app usage statistics, screens visited, actions performed, purchases made, location data)
How to ensure business growth alongside the CDP venture
A CDP project and the related areas of operation (customer database, marketing automation, vendor tools, other customer services) could be easily managed separately, in their own entities. However, this is a mistake in terms of business and architectural development. The end result often is a long system development project that slowly yields value to the customer interface.
Instead, why not organise the CDP project to be jointly engineered with the marketing automation, DMP, CRM or sales tool project, so that the first CDP implementation and first microservice or integration service experiment of the CDP will serve the first MVP implementation of, for example, the sales tool or marketing automation care model? Therefore, the CDP project should not be "completed" at the same time, but instead have the CDP layer develop according to how customer data is needed in marketing automation, CRM or DMP use cases.
Learning and getting value from each stage of an implementation project can be achieved best when growth hacking teams have a direct communication connection with the data science team, who in most cases are responsible for CDP implementations. Each CDP development item, such as data collection, cleaning, integration or enrichment, should be confirmed using a valid growth experiment hypothesis.
This approach makes also smaller data integration experiments possible, which can be seen as the development of a CDP in baby steps. These experiments will give a lot of insight in the CDP platform investment and make needs clearer when comparing CRM ecosystems to CDP platforms.
Get value every step of the way
Describe use cases for data usage - remember to involve all relevant stakeholders. You may be surprised how many stakeholders have CDP needs
Prioritise use cases based on the business value those can achieve
Identify existing first-party customer data sources
Audit the existing data: do you have data in quantities and in a quality needed for the use cases?
Plan data quantity and quality improvement actions based on prioritised use cases
Create a roadmap for the CDP development process - which actions have the best bang for the buck?
Get started!
The Data Handbook
How to use data to improve your customer journey and get better business outcomes in digital sales. Interviews, use cases, and deep-dives.
Get the book