The Data Handbook
How to use data to improve your customer journey and get better business outcomes in digital sales. Interviews, use cases, and deep-dives.
Get the book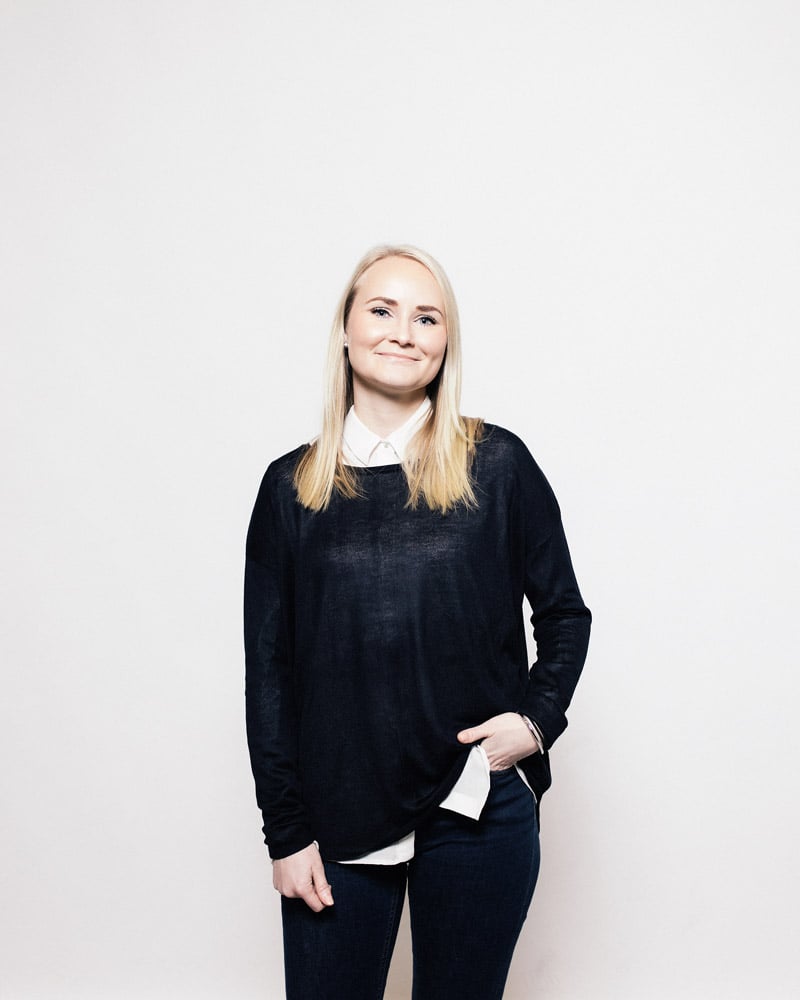 Krista Palmu
Business
LinkedIn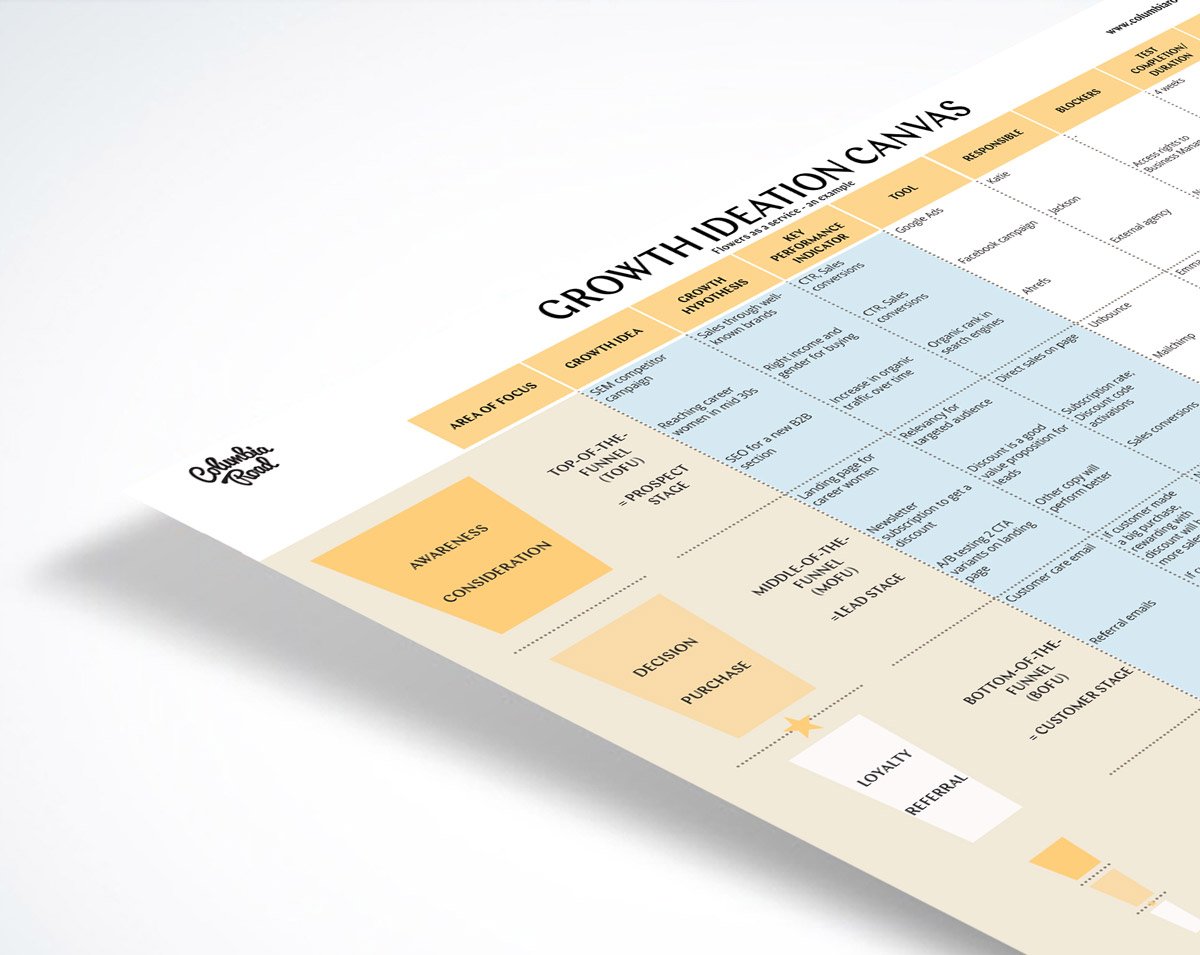 The purpose of growth ideation is to come up with new ways of growing your business – usually brand awareness or direct online sales. In this article you will learn how to engage in hands-on growth ideation, ideate for tactical business growth, and get practical tips for getting started with growth ideation in your organisation.
The Growth Ideation Canvas is a tool with concrete steps and structure. By working with the canvas you will end up with an actionable list of growth experiments to try with relevant hypotheses, metrics, and testing periods, ready for execution.
Benefits of growth ideation
Depending on the North Star metric (key performance indicator, KPI) for the (growth) team, opportunities for growth can be identified by looking at and focusing on the different parts of the purchase funnel, or customer journey. Fundamentally, growth ideation follows the REAN model of Reach, Engage, Activate, and Nurture.
A growth team (a cross-functional multidisciplinary team working towards a shared goal) can focus on the reach of a single product or service in a given month or lean/agile sprint, and the emphasis and focus of work can change to another part of the REAN model at another time. Alternatively, the same team, or depending on resources and budgets, another team may focus on other products and services – or even work with another business unit – and a completely different part of the REAN model. Priorities and business goals determine a growth team's focus.
Essentially, tactical growth ideation may cover some or all of the following:
Top-of-the-funnel (TOFU) ideation
In the TOFU part of the purchase funnel, ideation focuses on the means of customer acquisition and lead generation. Oftentimes, companies rely on paid advertising in external channels to drive traffic. Performance-wise, it's central to pay attention and monitor conversion rates for ads and leads regarding tactical, sales-driven marketing. The same is true for brand awareness and brand building results, such as engagement and unique impressions.
Ideation may focus on identifying new ways for targeting relevant audiences online, new digital channel experiments for paid marketing (e.g. search engine marketing (SEM), programmatic advertising, social media), new inbound content types, SEO implications, and much more – even traditional, offline marketing efforts.
It is also essential to involve users in the curation of offering and related services, such as website/webshop development. Gathering and analysing data from, let's say, customer service desk might give new ideas to what type of issues prospects face with the service or simply how they would prefer the service to be further improved. In addition, tools such as user polls and surveys may be utilised to obtain insights directly from online visitors.
Middle-of-the-funnel (MOFU) ideation
In the MOFU part of the purchase funnel, the focus of growth ideation is typically on maximising direct sales or conversions (ie. amount of leads) on the website or webshop. Tactics, such as A/B-testing, conversion rate optimisation (CRO) can be employed on landing pages in order to drive results.
When ideating, it's important to acknowledge UI/UX considerations as well as relevant inbound content types for this part of the funnel. Service design aspects ought not be forgotten. For example, a simple exercise is to let someone new, who's not familiar with the website or webshop, walk through the customer journey or purchase path in the hopes of identifying bottlenecks for service usage and/or online purchasing. End user testing, thereby, can provide interesting new aspects to webshop/website development.
Importantly, productisation, such as pricing, plays a role in this phase where users compare competitive products and services. It also makes sense to revisit landing pages from the viewpoint of relevant buyer personas; whether those have been validated with real customers and/or data, and whether the offering on an even more detailed level (the exact copy and pitch (unique selling proposition, USP), address the key pain points of these buyers.
Bottom-of-the-funnel (BOFU) ideation
At the final stage of the purchase funnel, the focus of growth ideation is on matters such as customer activation and satisfaction. Ultimately, it means that you should care for those who purchased from you and definitely not forget about them. Metrics such as customer churn and retention are crucial to understand. Sales-wise it's relevant to monitor also upselling and cross-selling potential to current customers.
Different tools and tactics can be leveraged in this phase. It goes without saying that customer service and keeping an open dialogue especially with your most valuable customers is highly important. This can be conducted via dedicated customer success representatives as well as designed customer care models and loyalty/referral programs through marketing automation. Related to this is also the production of inbound content and materials designed particularly for this stage of the purchase funnel, or even better, to relevant buyer personas.
In order to understand and assess the entire customer portfolio and its healthiness, customer lifetime value calculations, such as RFM modelling focusing on recency, frequency, and monetary value, can be conducted.
The image below outlines how ideation can occur along the purchase funnel: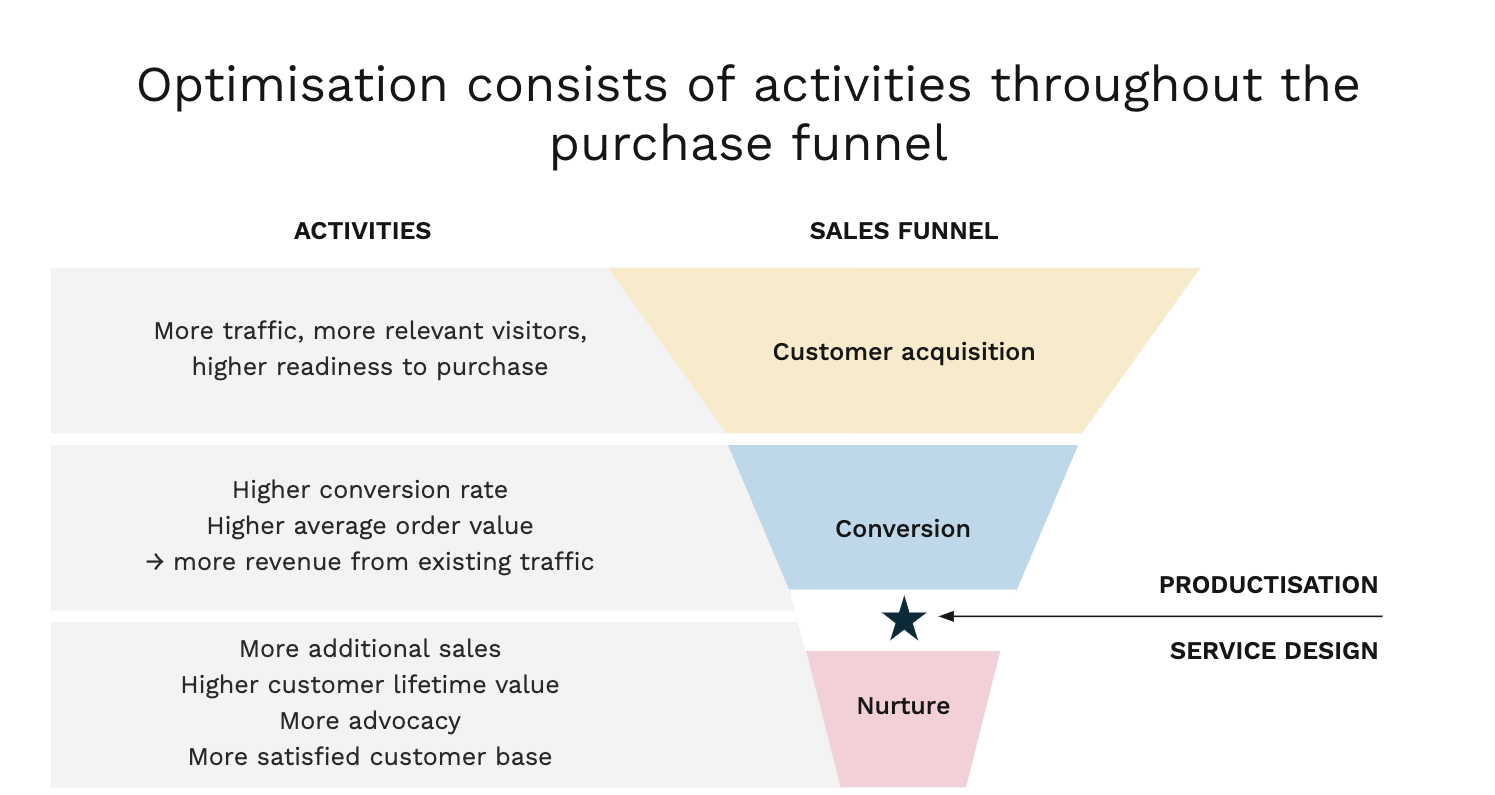 Full-funnel (FUFU) ideation
Finally, it is relevant to check that the full funnel (FUFU) is accounted for when it comes to implementation and monitoring of analytics and tracking systems. Growth ideas lead to no good if they are not executed properly so that data and insights can be collected from the growth experiments in order to determine whether something was successful or not.
This means ensuring that all relevant touchpoints along the purchase funnel are measured for instance with the help of Google Analytics and Google Tag Manager. It can be click or conversion data, to name a few, or observation of service usage or prospect/customer behaviour with tools such as Hotjar or HubSpot. Installation of relevant notifications based on prospect or customer behaviour triggers is another powerful tactic that can be employed.
In addition, customer data platforms (CDPs), attribution modelling per channel, and online dashboards for data integration and management can provide many tips on how your customers act and where most of your revenue comes from.
Data and monitoring should strive to give answers to our most fundamental questions. Do you know who your best customers are? Do you know what they like and why they buy from you? What makes them come back for more? What service channels do they use? If the answers to these questions are unclear, it might be a good time to start investigating and ideating for growth.
The Data Handbook
How to use data to improve your customer journey and get better business outcomes in digital sales. Interviews, use cases, and deep-dives.
Get the book