Ecommerce does not always have a good reputation. Consumers are purchasing an increasing amount of products or services in all industries, and are particularly sensitive to steep discounts. Singles day (11th November), the Chinese-origin shopping frenzy, has become the biggest shopping event of the year doubling Black Friday and Cyber Monday combined, according to the Time. In 2017, according to New York Times, "sales had hit a new record of $25.3 billion, more than 40 percent higher than sales on Singles Day 2016".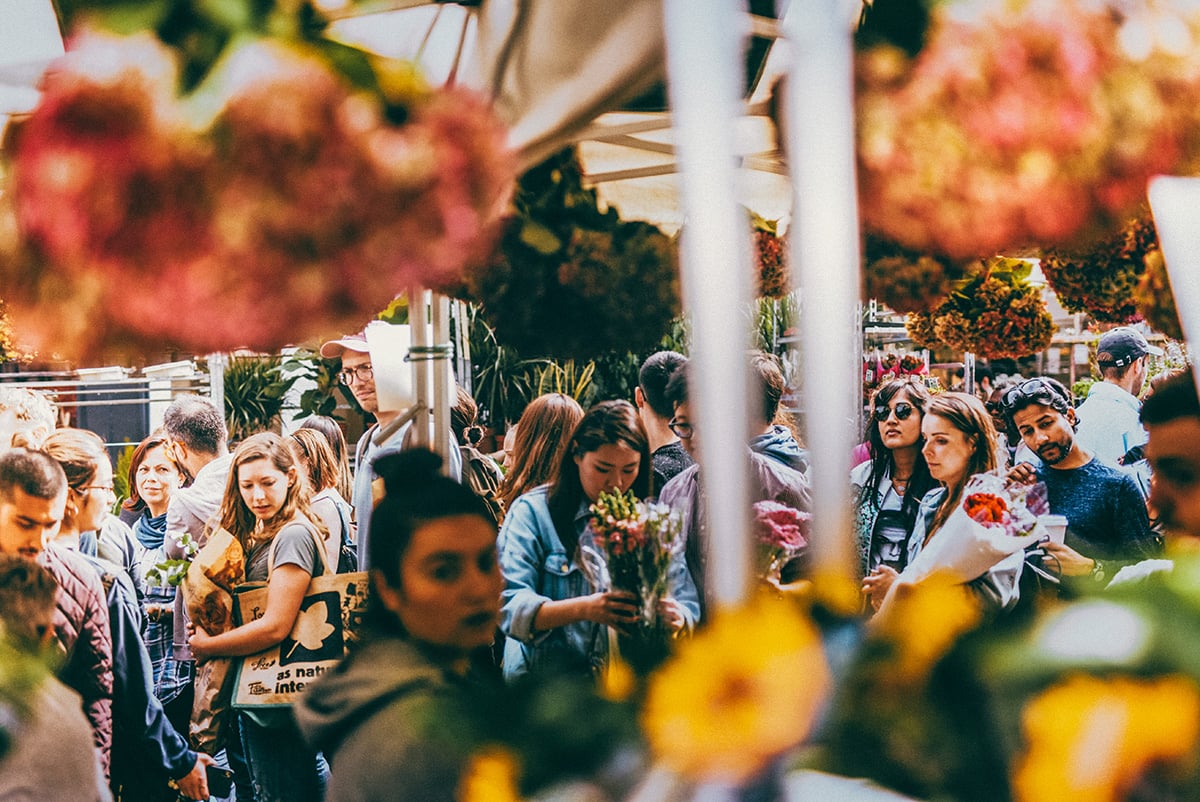 McKinsey calls 2019 the year of awakening for fashion companies. Indeed, no matter what the size or segment of the company, consumers expect brands to be transparent, sustainable and take a stance on social issues. For example, according to a study from Dejean & Associés and GoudLink, 97% of French citizens would be ready to boycott companies with destructive social or environmental practices.
Sustainability is a multifaceted concept that can be inspected through different lenses. The journey of the garment, from the material itself, to the conditions of the workers, the atelier location, the transport up until the end-life of the garment.
Digitalisation can alleviate the shopping frenzy problem and bring more transparency regarding some aspects of sustainability. For example, Arket has done a small proof of concept (POC) in partnership with VeChain to use blockchain technology to trace the product in the value chain in a secure and accurate way. In 2017, technology pioneer Martine Jarlgaard partnered with blockchain company Provenance to create smart labels, on which the consumer is able to see all the steps of the production process.
With the raise of this awareness, and the Marie Kondo effect (decluttering your closet to keep only items that sparks joy in you), consumers are cleaning up their closet, trying to buy less, but more durable clothes.
So what are the consequences? What do consumers do with the garments they no longer want to use? What are the business opportunities? In this article, I'm going to explore different examples of companies that help fashion to become a little bit more sustainable, a bit more ethical, a bit more responsible, and hopefully also inspire you.
Giving a second life to garments
According to research by the Fashion Revolution, it takes 200+ years for a polyester dress to decompose in the landfill, 2 weeks for a linen sleeveless top, and 1-5 years for a wool jumper. Sustainably, there are three alternatives to avoid the landfills: sell, donate, rent. Technology has made all of these options available and lucrative for consumers.
Sell
There are many online channels to sell garments, whether it is through an intermediary or directly to customers. While lucrative in financial sense, the selling journey usually includes many steps: cleaning/ironing the garment, taking pictures from different angles, setting up the price, writing a description, selecting a sales channel, registering to the channel, creating the announcement and pricing, posting the announcement, answering to possible buyers' questions, meeting the buyer for the transaction or sending the item, and finally receiving the payment.
These three factors affect the decision of which online channel to use:
Time & level of involvement: how much of the selling journey is the user ready to outsource? how much time is the user willing to spend on each garment?
Brand: what is the quality of the item? when was it bought and how often has it been worn? is the brand of the garment popular on the platform?
Output: where does the transaction take place? Is it a gift card or straight transfer on the bank account?
CHANNEL DESCRIPTION
TIME & LEVEL OF INVOLVEMENT
BRAND
OUTPUT
CHANNEL EXAMPLES

Social Media

All steps are done manually by the user so it is quite time-consuming

Hard part is finding the right subgroup to post announcements with the right target group

Direct transfer or by cash

Facebook

Instagram

Platform that takes no percentage of the sell

All steps are done manually by the user in a specialised platform for second-hand sell

Accepts all brands, all types of prices

Platform has a "wallet" to show transactions and transfer to bank account

Platform that takes a percentage of the sell

All steps are done manually by the user in a specialised platform for second-hand sell

Only accepts mid market or luxury brands. Has experts authenticating the garment

Platform has a "wallet" to show transactions and transfer to bank account

Platform that takes no percentage of the sell, but requires the user to deposit physically the garment(s) to specific locations

Most of the steps are done by the user. Once the garment has been sold, the user needs to pack the item and bring it to a location. The buyer will come to pick up the package in the same location.

Accepts all brands, maximum selling price for one item is 250€

User will receive a "gift card" to spend at the e-shop or any of the physical locations

Platform that takes care of everything, and charges for it

The only thing the user needs to do is put all the items in a bag and deposit it into a drop point. The company will then take care of everything from taking pictures, pricing, storage, shipment, returns. The user needs to decide what to do if the garment has not been sold within 6 months: donate the clothes or return it

Accepts only specific brands

Can choose between direct transfer or gift card
Vinted challenged the landscape of second-hand online selling platforms in France when it arrived in 2013. It believes that second-hand should be for all types of brands: you can find dresses from Ba&sh, as well as H&M, unlike VideDressing and Vestiaire Collective which are targeting mid market or higher-end brands. Vinted offered zero transaction fee, which made it quite popular. At the end of 2018, Vinted had around 1,4 million users in France. VideDressing and Vestiaire Collective have both revised their fees to keep up with the competition.
Le Good Dressing was just launched in April 2019 by the Galeries Lafayette in partnership with Place2swap. It is different from the other platforms since the seller receives a gift card of the amount of the item sold that can be used in the e-shop or any Galeries Lafayettes stores instead of a wire transfer. In exchange, there is no transaction fee. The exchange also takes place in a physical space: both buyer and seller need to go to Galeries Lafayette of Lyon Part-Dieu to do the exchange. Finally, it accepts all brands, from men to children to women's clothes, but with a maximum price tag of 250€. Place2swap also helped launch Camaïeu Vide-Dressing with a similar concept. The goal is to increase customer loyalty and increase store traffic. The Camaïeu experiment was so popular that it was originally launched to 18 stores, and will soon extend to 100 stores.
Donate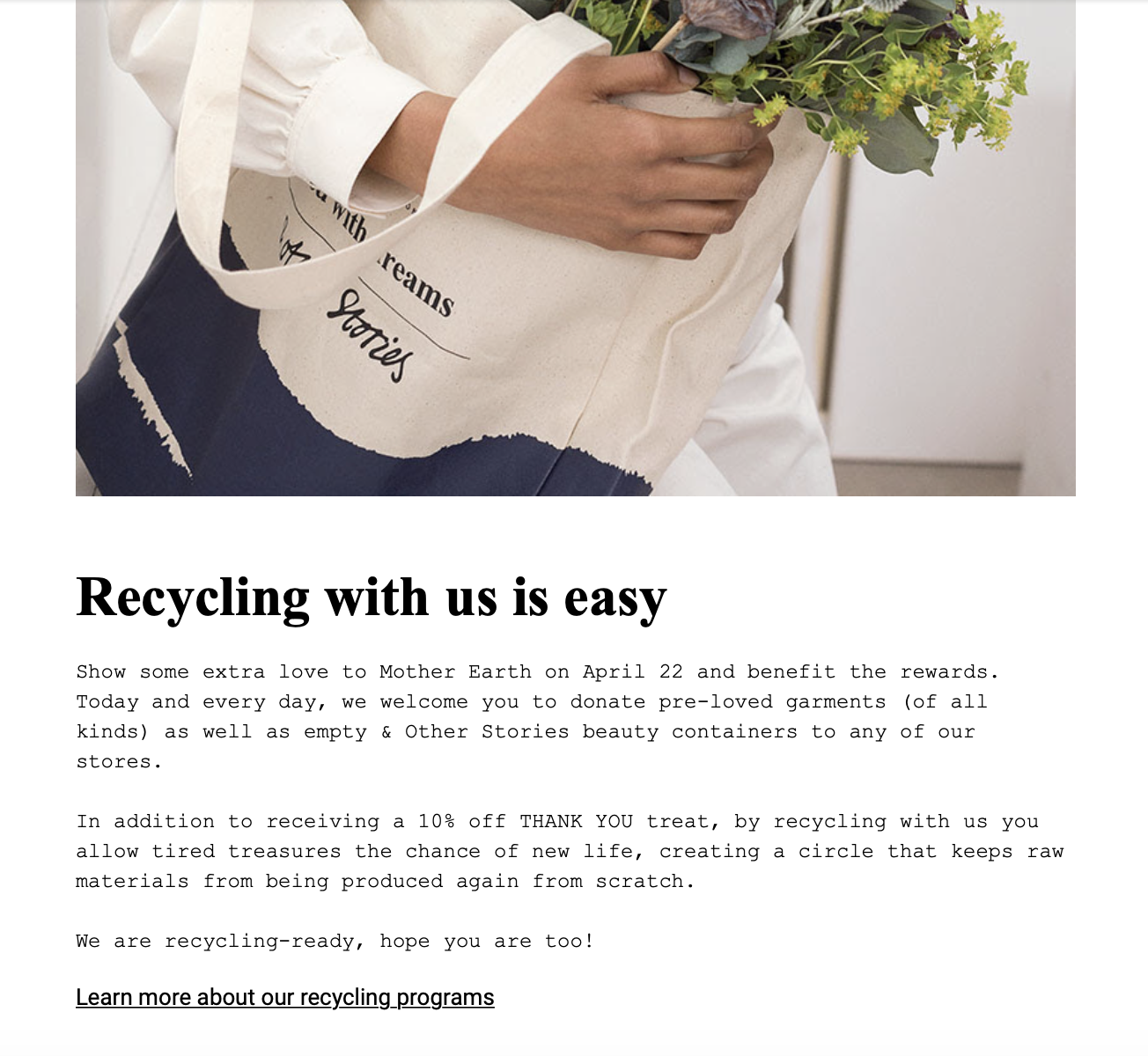 &Other stories recycling program
Brands have also been more active to encourage loyal customers to donate old clothes, to give them a second life, sometimes in exchange for a small discount. For example, Balzac Paris took the bold move on Black Friday to ask customers to sign up to receive a prepaid empty box in which users can donate clothes, which can be of any brand. In exchange, a 15€ discount was given. The clothes were then sorted out and donated to Le Relais. More and more shops encourage donating clothes in exchange of a small discount.
Garments in good condition can find a new owner through a network of partners, or be sold at second-hand events (e.g. Vente Privées, Archives), or be recycled and transformed into insulation or cloths. More and more companies, such as Uniqlo, H&M, Nike, &Other stories have their own recycling program.
Rent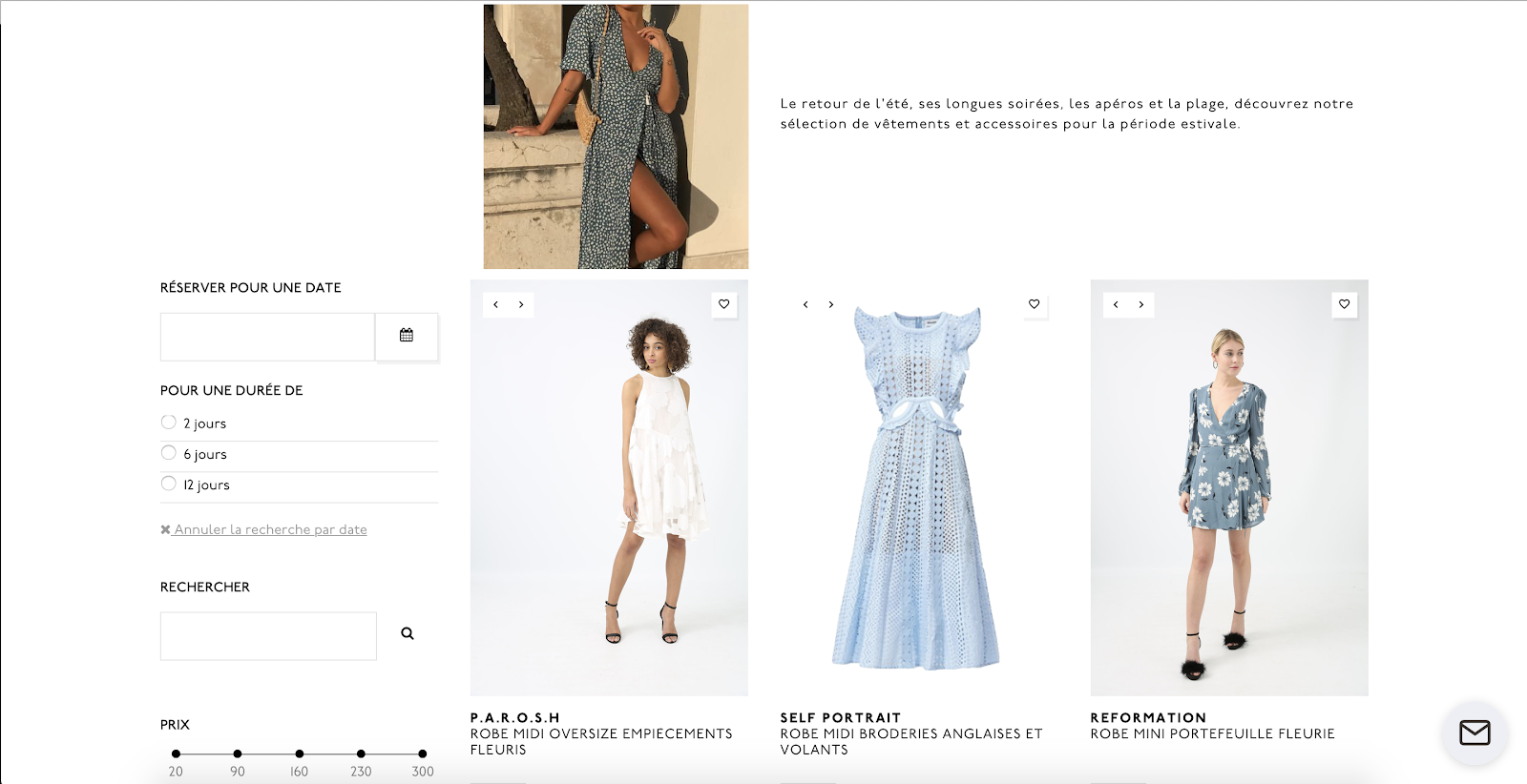 Beaurow for borrowing a summer dress
Allied Market Research has forecasted that the global online clothing rental market is estimated to reach $1,856 million by 2023.
There are three business models for the online clothing rental market:
Peer-to-peer model: users lend their garments to other users via a specialized platform
Standalone model: the company purchases mid- and high-end garments and lends them to users
Hybrid model: a mix of the two above
According to Research Nester, "peer-to-peer model segment is expected to dominate the overall online clothing rental market by 2023".
Renting garments can appeal to users who own high-end garments that they don't really want to let go, but don't use often. This is still a new concept, which is only open to high-end or luxury garments. The table below compares some examples of peer-to-peer platforms:
PLATFORM
TIME & LEVEL OF INVOLVEMENT
BRAND
OUTPUT
Beaurow

User select garments they wish to lend → Takes pictures → Sends the pictures to a phone number → Courier picks up garments → Garments are stored in Beaurow's warehouse → User receives contract

Beaurow takes care of everything: insurance, delivery, dry-cleaning

User can withdraw the garment at any time.

Beaurow's stylists handpick the garments that are on the platform. Can be vintage, petits créateurs, luxury brands...

User receives 30% of the rental price, paid at the end of each month, directly in the user's bank account

Les Cachotières

User creates an account → Upload pictures and description of the garments → Les Cachotières get back to the user if the garment has been selected → Send the garment to their warehouse

Les Cachotières takes care of everything: insurance, delivery, dry-cleaning

User can withdraw the garment at anytime and user can be sent back the garment one time per month, free of charge

Les Cachotières handpick the garments. Minimum price of the garment: 120€

User receives 30% of the rental price, paid at the end of each month, in the "wallet". User can then decide to transfer it in her bank account or use it in the site

Dresswing

User downloads the application → Creates an account → Takes a picture → Sets up description and price → Accepts or refuses rentals → Delivers garment face-to-face → Receives garment → Dry-clean

If the user lives in Paris and has at least 10 garments, she can book a professional shooting at home. User needs to prepare the items, and Dresswing will take care of the rest (posting online, adding description, price

Only accepts mid-range or high-end brands. Receipts will be asked for luxurious articles. Dresswing team validates or refuses items before it is live on the platform.

User receives 80% of the rental price. "Wallet" to show transactions and transfer to bank account (minimum 20€)

Tulerie

User requests access to the platform → FaceTime interview

with Tulerie's team → Takes a picture → Sets up description and price → Accepts or refuses rentals → Ships garment → Receives garment → Dry-clean

User is responsible for selecting a parcel that can be used for round trip shipping

List of all the brands accepted

User receives 82% of the rental price
As a user, having a closet in the cloud is a tempting idea. You are able to have an endless ever-changing closet that helps discover new brands, test a few wild styles to find your boundaries or just discover more about yourself without breaking your wallet.
We've seen many companies try rent clothing with various business models. Some companies that had the standalone model went bankrupt, such as FashionPass, some are blooming, like Rent the Runway. A few months ago, the company raised 125 millions of dollars and now has a valuation of 1 billion dollars. It just started to expand the renting to kids, from 3 to 12 years old, since April 15th, and is also experimenting with renting furniture through partner West Elm.
Online clothing rental companies are competing with the brands, the subscription models, and extra services, such as meetings with stylist, dry cleaning, and renting other items such as accessories and shoes. Some also understand the pains of the customer and allows customers to rent the same dress in different sizes, just to make sure that the customer will get the best fit for the right occasion.
In France, Une robe un soir, Panoply, Le closet, Chic by choice, L'armoire Paris are following the standalone model. L'Habibliothèque which followed the same model and was launched in 2014, just recently closed its doors. According to the interview the CEO gave to FashionNetwork, it was because "the clothing renting business is still a niche market, where, in order to stay viable, you need money to acquire more items. We grew 40 subscribers per week, and would lose the same amount, because we didn't have enough stock".
This has also inspired traditional retailers to test renting concepts. For example Bocage launched in October 2018 l'Atelier Bocage for 50 customers, 6 pilots in shops. The monthly fee is 34€ (for winter shoes) or 29€ for spring and summer collections. The customer can make an appointment via the web shop to meet a stylist to try 3 new pairs of shoes that have been preselected online. The customer can select one pair after the live testing, and can wear it up to 2 months, before bringing it back to the store. If the customer likes the pair, she can keep it longer or buy it -60%. Bocage will launch at the end of 2019 a second-hand webstore, where all the shoes that have been rented and brought back are restored.
More recently, in the US, Banana Republic announced in August 2019 that it would launch a clothing rental service called Style Passport in September. For a set price, customers can rent up to three garments at a time. The goal is to "connect with younger shoppers who appreciate great style and want an affordable sustainable way to try new fashion. With this new service, we'll gather valuable insights from a highly interactive customer base that can be used to design future products and experiences", Mark Breitbard, CEO and president of Banana Republic said in a statement.
In the summer of 2019, Loft launched Infinitely Loft. A service where the customer, if they really like a garment, they can keep it forever, and pay a discounted price for it. URBN (Urban Outfitters' in-house apparel brands that include UO, Anthropologie, Free People and other streetwear brands) is launching Nuuly, which will also feature "a curated collection of rare vintage items".
Bloomingdale will launch a subscription service in September, Macy's is exploring potential apparel rental service, and American Eagle piloted similar concept in February.
Innovative storage service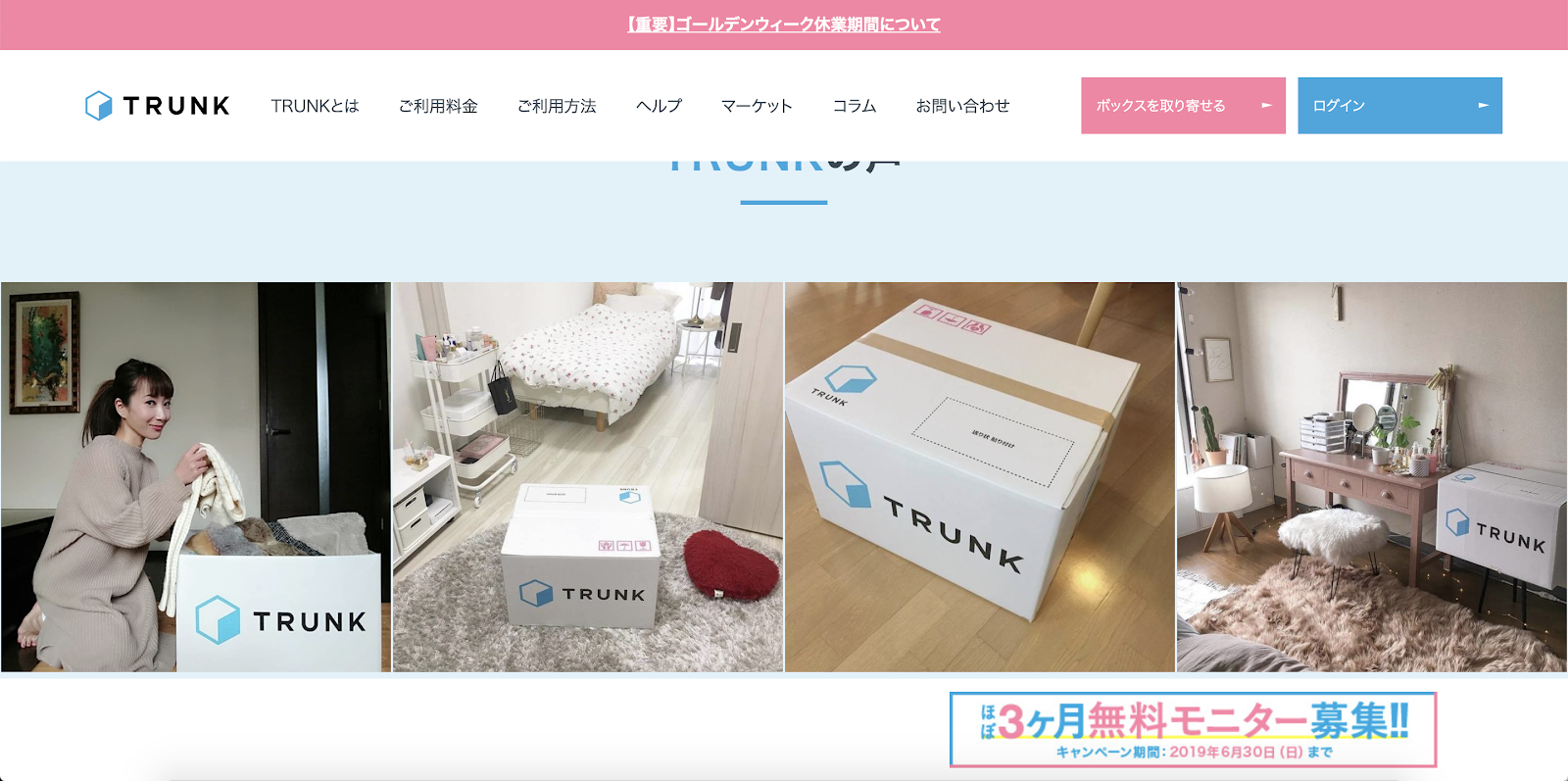 Trunk, rent storage service
In Japan, Hayato Matsuzaki launched a service called Trunk. Customers order a box, which can contain up to 30 items, and weigh up to 20kg. The items are placed into a fully air-conditioned and safe storage warehouse. All the items will be taken into pictures, be individually vacuumed-sealed and will be listed in the application. With Trunk, the user is able to see pictures of all the items that are in storage. The user can also decide to deliver the item at any location with just one button, sell the item through the market, or donate it. For ¥500 (around 4€) per box per month, users can fully take advantage of this service. This is an interesting alternative for users with items that they don't often use, but can't throw away.
Conclusion
A few years ago, brands feared "cannibalisation" of their sales, if they would invest into circular economy. But nowadays brands are realising that there are several types of customers: those who mainly buy second-hand and those who like to buy brand-new items. Even with brand-new items, customers expect brands to take an active stance on social issues, be transparent, and be sustainable environmentally and socially. Brands need to be brave enough to challenge their own identity in order to win new generations of customers. We can help to change the mentality, we can consume better and fight against fast fashion, but only with the help of known brands that push for knowledge, information and honesty.
Circular economy opens up many opportunities. And who knows, in a couple of years, perhaps it would be possible to go on holiday, rent an apartment with pre-selected clothes in the closet.
Feel like your digital business needs a bit of working on details or rethinking the big picture after this? Check out our free Digital Commerce Canvas and get a thoroughly holistic yet light kickstart for analysing, planning or redesigning your digital sales and customer acquisition.