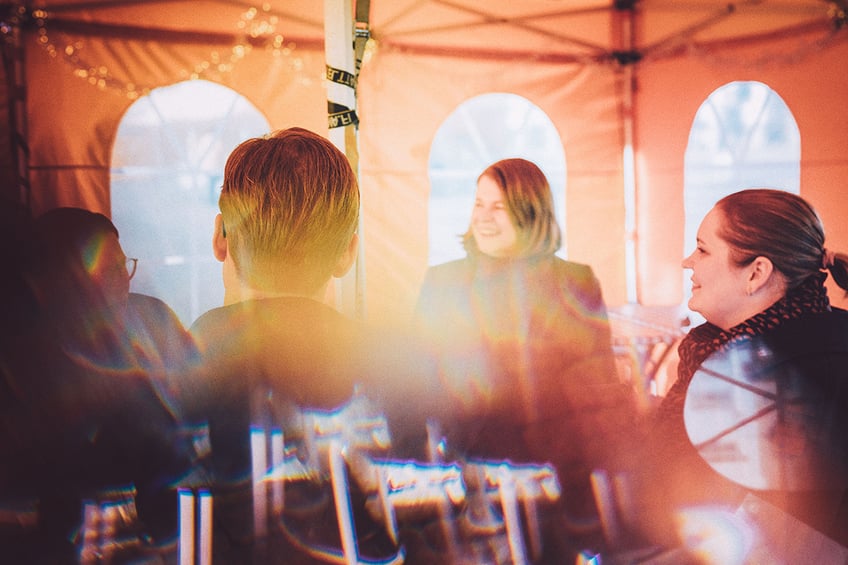 As Finland's main postal and logistics service company, Posti Group also provides marketing services to companies both in print and digital. After recently launching a new service for its business customers, some key members involved with the release took time with us to discuss the project. What does it take for an almost 400-year-old company to start releasing sales solutions in an agile customer-oriented way while focusing on sales impact?
Interviewees:
Posti Group | Henri Lehtonen, Head of Digital Development
Posti Group | Leena Peltola, Product Development Manager
Posti Group | Juha Risikko, Head of Digital Solutions
You recently soft-launched a new solution called Posti Reach. What is Posti Reach and what was the thinking behind it?
Leena: Posti Reach (https://reach.posti.fi/en) is a completely new online service that combines target audiences, print and digital marketing in the same package. It enables our business customers to reach new, potential B2C customers quickly and easily. This kind of combination of print and digital marketing together with the target audiences is also something new in the market.
It started when we began looking at our offering from our own customers' points of view. We knew we had quality services for our business customers, but we started to look for ways to improve that offering. We considered what our customers wanted to have so we could offer our Posti services more easily.
Through customer interviews, we realised that we should provide a solution that makes our existing services more visible and easily accessible to them. One need was being able to reach their own potential customers more easily. We began building Posti Reach as an MVP service. We are now continuously measuring how the service is used and listening to the feedback and suggestions from our customers, which will then define the future development of the service.
The service allows you to bring print and digital marketing services together, allowing you to serve both at the same time, right?
Juha: Yes, this is a special solution which brings together both digital and print worlds and efficient and easy target audience segmentation. Customers can easily identify different options for the marketing campaigns and implement the one with the highest potential.
Henri: We also see this is a differentiator for us, compared to what our competitors offer. If we compete only on print deliveries of direct marketing or only on online advertisements, there are many players in those areas. But to combine the services and deliver a full print and digital offering on a national level is a competitive edge for us.
How involved was IT during the service design phase and when did the collaboration begin?
Henri: IT was involved in the concept development process from the beginning. This allowed us to get a better understanding of business goals and reasoning and understand what we were designing.
Following the raw design phase, we dug deeper from an architectural point of view. We considered the concept and then considered how we should develop it to enable this kind of MVP functionality. We also wanted something that would be future-proof. We had pragmatic architectural design principles, but also considered the general use of the components that we have in place.
I think we have a very good solution with the basic fundamentals in place. It's set up so that in the future if we want to further develop, there is room to expand and enrich the service easily with high flexibility for the development team.
What has made it so easy to work on this project?
Leena: We all had responsibilities that matched our expertise. I was the product owner from the business side, we had the technical product owner from the IT side and we had other very motivated colleagues who were experts in their own areas that were supporting us, which made it very straightforward.
Henri: Yes, the roles and responsibilities were clearly defined, with everyone being able to participate from the beginning. From there, each could work and focus on his or her own areas, with open discussions while going forward, allowing us to redirect and redesign some parts of the solution when needed.
Juha: Our general learnings from the past are that when the business communicates the vision and the reasoning clearly to the development team, IT professionals and other stakeholders can embrace and support reaching the business goals. It's as if there is a whole new competence that reveals itself. IT has a technical understanding regarding the available data and what can be done easily and what is more difficult.
Communication and dialogue also boost innovation: rich dialogue between business, IT and other stakeholders sparks new ideas with built-in feasibility analysis. This has a huge impact on the results and on IT experts' motivation, because not only are they now executing, but they are influencing what's being done.
Finding well-informed product owners can sometimes be difficult, and the product owner and business owner partnership are crucial to getting things working.
Henri: I agree with that. It also depends on how much time you have to spare on a certain project. If there is limited time, that also can affect the activity. Do the product owners have 80% or 50% or 30% of their time available from other tasks? We must find the right balance so we can support them in those projects, whether it be from a technical standpoint or organisational standpoint. Team structures should be well planned and synced to each situation.
I often see projects with a single product owner when it would make sense to also have a technical product owner helping the business product owner implement the solution, by handling the technical coordination. Those two aspects are quite different to manage.
A lot of data must have been combined into this service, which we know can be a key challenge. Were there challenges with that?
Leena: The complexity level of data management was not clear in the beginning in the project. Early involvement of the IT experts and the contribution of a cross-functional team helped to find a solution which was both feasible to implement and could provide high value for customers. Eventually, we managed to run a very efficient service development process without any major obstacles.
Henri: Parts of the ecommerce platform already had some parts of the data. It just had to be combined on a data level so that we could properly utilise it. Once the data was combined, we could apply cloud-native tools to make it fast enough for the user interface, ensuring a quality user experience.
Do you now have IT capabilities in place that could be used also in other applications that have the same data infrastructure in place?
Henri: For this case, the same data that we use for the UI could be used through the API. If we wanted to use it in some other context, it would be straightforward. The UI layer and the back-end layer are very separated from each other to provide the robustness and the flexibility of the solution.
Was this a new way of working for Posti and what were the lessons compared to earlier?
Leena: Yes, the methodology was a rather new approach for us. In future development, we will take a similar approach to understand the customers so that we can combine business and IT with the customer. This goes for Posti Reach and other solutions as well. It will allow us to prioritise what we are doing and be able to create more value for our customers.
Juha: This also aligns with our new organisation, which is built from a customer angle to better understand customer needs and provide better services. This organisational structure also supports that. Going forward, it's even easier to have this kind of approach more systematically.
Henri: When we build things in the future, we also have to consider our entire organisation from the architectural point of view because we have a lot of capabilities in Posti Group, from ecommerce to IT and more. We would like to have more discussions and better communication and understanding of the technical capabilities that we can use to enable this kind of fast development.
If all the business groups and units do the work on their own, it takes a lot of time and money. With Posti Reach, we were able to utilise the capabilities from other business units related to data and analytics. We were also able to utilise the public cloud environments in setting up the infrastructure from IT. This approach is faster and better for everybody.
Any tips you can give to tackle those challenges?
Henri: For about the past year, I've been involving myself at some level in every forum I can, so that I gain a clearer understanding of what we have, from a technical capability point of view. This way, I can better consult on certain projects by enabling the discussions around the organisation and providing that solution also from an architectural perspective.
What key takeaways will stay with you from the Posti Reach project?
Leena: We're still taking in learnings from our customers, collecting data from different sources to better understand what they think about the service, and seeing where we can improve it. That will continue.
We can develop it further based on customer feedback. We will develop the service gradually, step-by-step based on the customers' wishes and demand.
Henri: Overall, it's nice to have a new modern approach for the customer. We have taken a major step in this area. It motivates us in IT to do the same in other product areas that go away from a specific result, to offer bigger value, bringing together the assets we have. It's beneficial not only for our customers but also for our sales teams.
The Posti Reach launch validates our assumptions that what we have in the service design phase is important. We learn whether there is truly a demand there and which direction to develop it in.
---
This blog post is part of the Digital Sales Handbook for leaders in IT. The Handbook is a crystallisation of the key themes leaders in IT need to understand in 2021 to push their digital-enabled sales forward. The book includes interviews with industry experts from companies including Stora Enso, SAS, UPM and Tiger of Sweden. Learn how your IT can become an active driver for digital sales!