They're smart, talented and fun! Meet some of our 2021 Associate Roadies and hear their stories – what is Roadie life about, what their summer has been like, what they've learnt, and what their future plans are.
Maybe you'd be interested in becoming an Associate Roadie? The application period for joining the 2022 Associate Program is now ongoing! The Associate Program is a full-time summer job with the possibility to start working part-time already before summer. The application period ends on the 28th of November – it's time to roll!
Oskar Sandås

|

Aalto University, School of Science

|

Computer

Science /

Industrial Engineering & Management
Role: Software Development Associate Consultant
Why Columbia Road?
I heard about Columbia Road for the first time in a company presentation given to Computer Science freshmen (I did my Bachelor's in CS) and remember thinking that "this seems like a cool workplace with nice people". Two years later, after working in my first CS-related job, I wanted to challenge myself and see if I could land a job in a "cool" or popular consulting company to learn about consulting and working with clients and Columbia Road was first on my list.
Honestly, I didn't have a clear picture of what Columbia Road really does, but the culture seemed really nice, so I applied, and to my surprise and joy, I was accepted into the 2021 Associate Program. I'm interested in business and entrepreneurship in addition to software and my job at Columbia Road lets me work with all of these interests.
What did you learn during the summer?
What didn't I learn? In addition to enlarging my tech stack, I gained more confidence in using new and unfamiliar technologies. I also gained some valuable experience working directly with clients, which was one of the reasons why I came to Columbia Road. I've also gained more experience in time management by working on multiple projects at the same time. Our Associate Program bi-weekly meetings have also been good sessions to share insights and perspectives on consulting.
What are your plans for the future?
Continuing to work at Columbia Road while getting my Master's in Strategy. In the long run, I hope to be part of some exciting business and entrepreneurship ventures.
Anything else on your mind?
It's hard to describe how central this great culture that everyone is talking about in Columbia Road is. Columbia Road is a great place to meet and work with driven and lovely people from different backgrounds. So as a true Roadie, I'll happily praise the culture to anyone who is interested in Columbia Road!
---
Saramaria Ritala
|
Aalto University, School of Business
|

Information Service Management
Role: Marketing Technology Associate Consultant
Why Columbia Road?
Before applying to the Associate Program, I had heard about Columbia Road from friends and had also attended some of their webinars. From the very beginning, I loved the idea of gaining a lot of responsibility and experience in doing client work. I was eager to develop my skills in marketing technology, but also in consulting and digital sales overall. What truly made a lasting impression on me was Columbia Road's business-driven and ambitious, yet friendly, company culture – it really resonated with me.
After spending my whole summer here, I fully agree with everything I heard about Columbia Road's culture beforehand. Despite restrictions dictated by Covid-19, I felt heartily welcomed from day one.
What did you learn during the summer?
In addition to learning new tools and technologies, I think my key learnings this summer have been related to consulting work and growth hacking in general. It has been eye-opening to see the digital sales funnel as a whole from different industries' point of view, instead of focusing only on a small detail or a certain marketing task.
Also, I've realised that a big part of being a good consultant is not about your technical capabilities, but rather your communication skills – one can never be too good at that! Overall, it has been a pleasure to work with such talented people at Columbia Road, and I feel that that has made my learning curve very steep.
What are your plans for the future?
This autumn I'll go back to school to finish my Master's Thesis, but I'm already looking forward to coming back to Columbia Road full time after graduation. I especially wish to further develop my skills in growth hacking and marketing technology, but also to learn more about different competencies within Columbia Road. I'm excited about the idea of continuous learning in my work, and I feel Columbia Road is a perfect place for that, since there is great mobility within the company and a strong culture of knowledge sharing.
Anything else on your mind?
I must give credit to how well Columbia Road handled the on-boarding of new employees and upheld the company culture online despite Covid-19. Even though we were not always able to meet in person, Columbia Road's warm culture came across and I got to know a lot of people from different backgrounds. And the people here are amazing! :)
---
Chloe Dang
|

Aalto University, School of Arts
|
International Design Business Management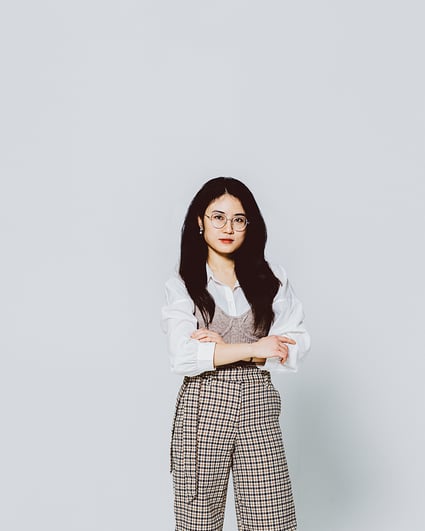 Role: Design Associate Consultant
Why Columbia Road?
I joined an event in Tampere and listened to Columbia Road's talk about growth hacking. I was really impressed and started to learn about the company. As a designer with a background in business, I care a lot about design impacts – how the design serves users and the business. Columbia Road offers the design role that fits my vision.
What did you learn during the summer?
The whole summer was a great learning journey for me. I have learned not only about design competence skills but also how to work in a consulting environment, manage my own work and time, communicate with clients and different stakeholders, and collaborate with developers and marketers. Learning is indeed a part of Columbia Road's awesome culture. We have bi-weekly sharing sessions organised by each competence, i.e. design, marketing, tech, strategy, where interesting sharing and discussions take place. During the summer, I joined various knowledge-sharing sessions and learned new things about other competencies. I have learned a lot from experienced colleagues who are always willing to share their knowledge.
What are your plans for the future?
Bettering myself as a consultant is my goal. I plan to work part-time along with my Master's Studies in Aalto's IDBM programme. I will continue learning and applying what I learn from my studies to work and vice versa.
Anything else on your mind?
Employees' wellbeing here is superb and the company works hard to ensure all Roadies have a great environment to learn and grow. People are really friendly, talented and professional at their jobs. I am thankful for all the support I have received from my colleagues since my first day at work.
---
Anh Vu
|

Metropolia University of Applied Sciences
|

Mobile Solutions
Role: Software Development Associate Consultant
Why Columbia Road?
Columbia Road is a one-of-a-kind IT consultancy in Helsinki. The vision to challenge the old IT-driven approach truly inspired me during my first interview at Columbia Road. Moreover, I also believe that the consulting approach and low-hierarchy model helps me to contribute towards clients' success.
What did you learn during the summer?
This summer was a great learning experience for me! I now have a good grasp of the consultant way of working – handling client communications, managing timelines and tasks, and taking ownership of projects. Furthermore, I had the opportunity to experience working with multiple technical stacks while discovering how to use technology as a tool to resolve business problems. I feel like everyone I've worked with at Columbia Road is extremely supportive and talented, and they have helped me in achieving great results during the past 6 months at Columbia Road.
What are your plans for the future?
I'm looking forward to sharpening my skills and gaining more consulting experience at Columbia Road, since one of my long term goals is to become a seasoned consultant with great skills for solving clients' challenges!
Anything else on your mind?
I want to say thank you to all Roadies for one of the best summers I've had. Roadies, you are extremely talented and fun to work with!
---
Rebecca Sutton
|

Aalto University, School of Business
|
Management and International Business

Role: Marketing Technology Associate Consultant
Why Columbia Road?
I heard about Columbia Road for the first time at university during a guest lecture from Futurice. At the time, I was running my own ecommerce business and was keen to learn more about digital sales. So I started researching Columbia Road and used their canvases for my own business. The more I researched, the more I was blown away by Columbia Road's work and knowledge. After a while, I wanted to take my next step in the world of digital sales and Columbia Road was the first company that came to mind due to their business-minded approach to digital sales. In addition, I was keen to dive into consulting as well as work within a flat organisation. Columbia Road ticked all the boxes, so I decided to apply!
What did you learn during the summer?
Where to even begin? During the summer, I had the opportunity to work on numerous different projects in which I was able to learn a variety of things related to digital sales; all from CRO and paid ads to Sales Development and more strategy-driven work. In addition, since Columbia Road has a flat hierarchy and gives plenty of responsibility, I got to work directly with clients, which has allowed me to learn a lot about consulting. All in all, my learning curve went through the roof this summer, and I wouldn't have been able to learn so much if it weren't for my amazing colleagues, who are always willing to help.
What are your plans for the future?
Since I am right on the brink of graduating, I'm happy to continue working at Columbia Road full-time! :) I am eager to continue learning and developing myself in all things related to digital sales, as well as sharpening my consulting skills. The learning opportunities at Columbia Road are endless, so I am excited to enjoy the ride of developing myself both professionally and personally. (Plus, one short-term goal of mine is to finally go for a morning swim in our building's swimming pool!)
Anything else on your mind?
I can't emphasise enough how brilliant the culture is at Columbia Road. I felt truly welcome even before I started here. The people are not only super skilled and professional at what they do, but also genuinely lovely and supportive people. The environment and people create a workplace where you can truly be yourself and feel like you're part of a community.
---
Sebastian Juuri
|
Aalto University, School of Business
|

Information Service Management

Role: Sales Development Associate Consultant
Why Columbia Road?
My first encounter with Columbia Road was when one of my friends from university started working at Columbia Road, but back then I didn't really think too much about it. Maybe a year or so later I started hearing really good things about Columbia Road, and I was even more impressed once I started looking up information about the company myself.
The approach of using technology with a strong business mindset struck a chord with me, and I felt like it was a place where I could combine my business studies with my personal interests in technology. I saw the job posting for sales positions and thought I could combine my previous sales experience with my curiosity towards technology, and that is pretty much how I ended up here!
What did you learn during the summer?
Heaps of stuff! I had worked some sales jobs before, but here at Columbia Road I got a deep dive into how selling consultancy services works, and got familiar with our different offering areas. I learned more about different tools and platforms in the world of ecommerce and digital sales, and the different types of projects we do for our clients. I felt that I could learn more and more by taking part in each proposal and was encouraged to do so!
Working in sales development, I got first-hand experience both about our internal sales and marketing functions. Besides the wide range of things I learned through our sales cases, I learned tonnes about running efficient sales and marketing processes through different tools that we use.
What are your plans for the future?
I am finishing my final year of studies at Aalto while continuing to work part-time here at Columbia Road. I will continue to learn more about selling consulting services and finding new ways to help our clients. Sales will always be interesting to me, but maybe after graduating I might think about testing myself in other roles here at Columbia Road.
Anything else on your mind?
Since the past year has been more or less hybrid working, you don't meet all your colleagues as often and learn about them. Still, it amazes me how many different types of expertise people here at Columbia Road have whenever some new topic comes up. I'm very hyped up about the future when we'll be able to meet as a larger crowd!
---
Feeling inspired? Apply now and secure your position for 2022! Gear up your career, learn new skills, and secure a memorable summer with nice colleagues!