The Data Handbook
How to use data to improve your customer journey and get better business outcomes in digital sales. Interviews, use cases, and deep-dives.
Get the book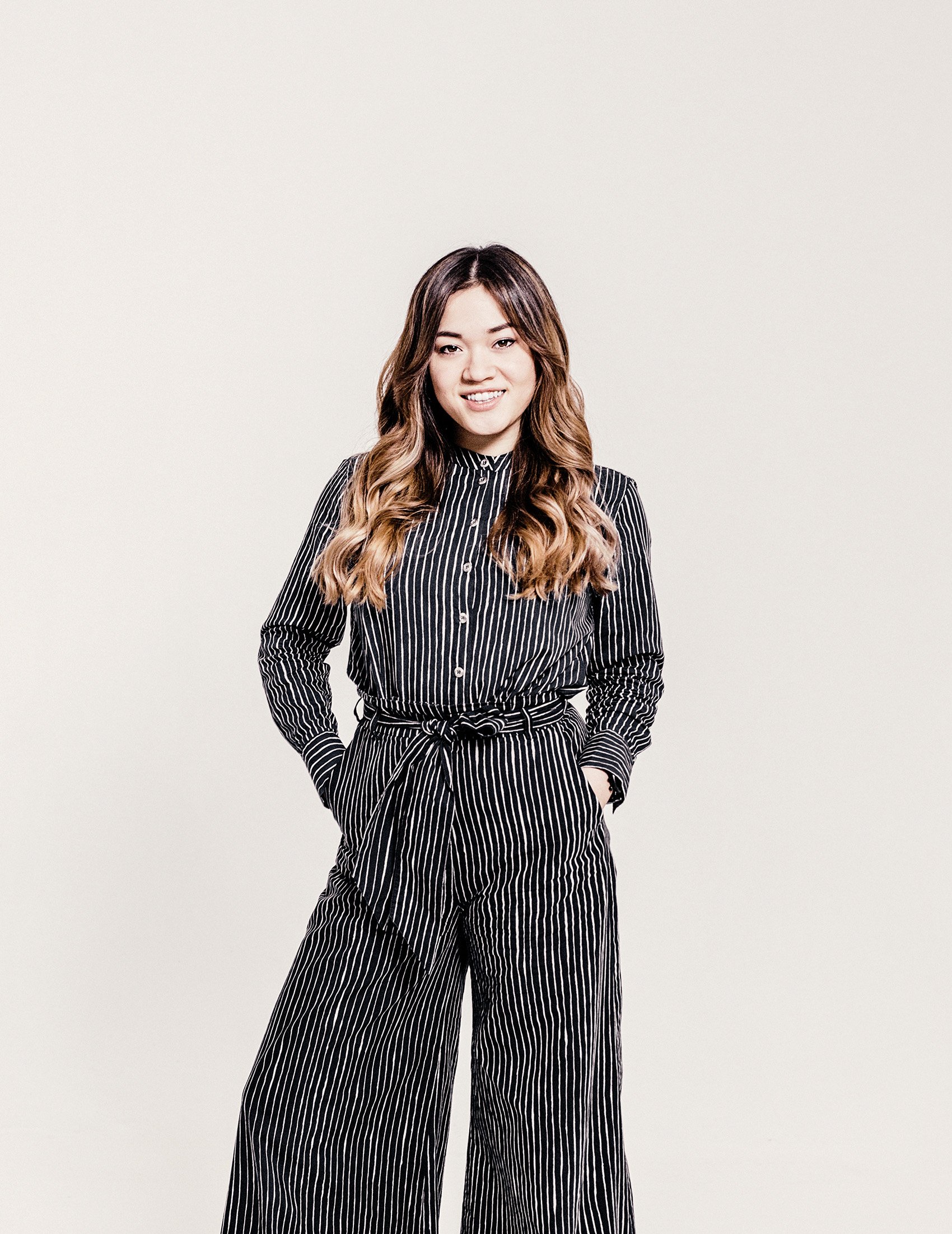 Olivia Helle
Martech
LinkedIn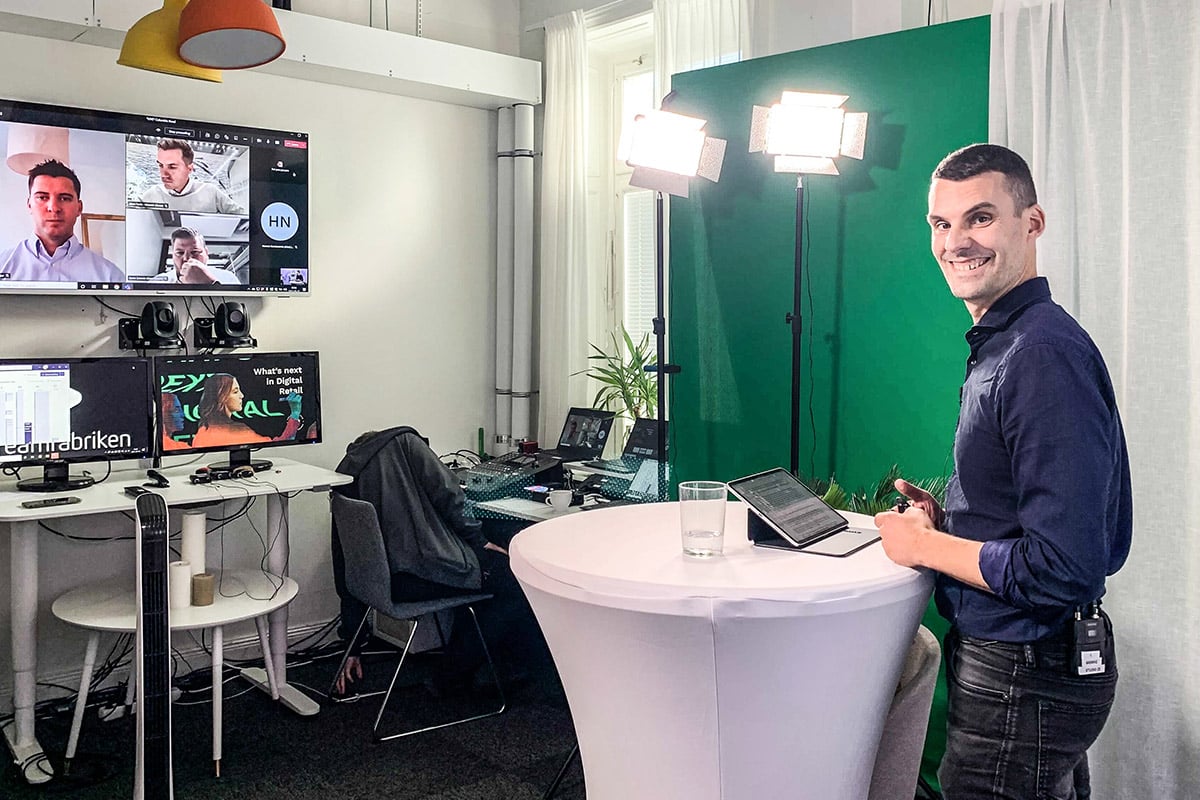 Digital sales is thriving, but what's in store for the future? Will there be a dip when corona restrictions seize, or will digital growth keep on accelerating? What will be the role of digital retail and how can your company make the most of it?
On September 15th, 2021, we held a webinar, What's next in digital retail, with retail experts from Zalando, Electrolux and Moomin Characters to elaborate on what's happening at the forefront of digital retail. During the webinar, we learned about their best practices, the technical solutions they rely on, and how they have adapted to the quickly changing environment and needs of consumers.
How has the pandemic affected consumers?
So what has COVID-19 changed? What's different now? At least this – 75% of the population have tried buying online (McKinsey 2020). This number was vastly smaller just two years ago. Most people who had tried online before covid were digitally savvy young people, but now a new segment has entered the market – first-time buyers. That has changed the environment, and Zalando has seen a change for example in the form of lower return rates and larger shopping baskets.
75% of the population have tried buying online. – McKinsey 2020
According to the same study by McKinsey (2020), 60% will continue shopping online after the pandemic, and 30% are likely to spend more online than during the crisis. These numbers are radical, but there's one more interesting online survey that was carried out in the DACH region (Austria, Switzerland and Germany) – around 40% of consumers in the DACH region changed their shopping channel preferefernce to online during the pandemic. There's no doubt that customers have changed, as has the trade.
40% of consumers in the DACH region changed their shopping channel preferefernce to online during the pandemic.
For the first time ever, physical retail was proven to be a fragile medium of business. Inventory became a liability and not an asset. Luckily we haven't seen as bad effects on physical retailers as some predictions anticipated.
Zalando's win-win-win solution – Connected Retail
Zalando took a step back and asked themselves: How can we bring together the 300 000 European lifestyle product stores and 42 000 000 customers of Zalando and come up with a solution that allows Zalando, the stores and customers to benefit from it? Their answer is Connected Retail – a form of buying from Zalando that allows the brands to include their physical shop inventory to be available on Zalando, so that the purchase is also fulfilled from a store. This means that the product is shipped from the physical store, and it's also possible to use click and collect and return to the store, and of course, it makes it possible to sell the same exact products that are currently available in the stores.
Some positive effects of the Connected Retail model include shorter shipping distances, faster shipping times, and a larger inventory on Zalando. The customer can also find the nearest store that has the hoodie and enjoy the physical retail experience. By utilising the inventory that the physical stores have, the customer, retailer and Zalando win – so many positives to it.
During the pandemic, the Connected Retail concept grew from 250-500 connected stores to 5000. In the future overstock might not be an issue for stores, as getting started and opting out from the Connected Retail concept has been made effortless and expense-free, requiring no long-term commitment. It's possible for all kinds of stores with different price points – low, medium and high. Retailers have full control over what and how they sell (participating in seasonal sales etc).
Case story: Electrolux
Electrolux's background and evolution
Electrolux is a 100-year-old company, with 180 billion SEK yearly revenue, and 60 million appliances sold yearly. Electrolux currently has 50 000 people working for them, and dozen factories all over the world. They are one of the largest appliance manufacturers in the world. With a long history, Electrolux comes from a very different background to digital natives, such as Zalando – how has Electrolux faced digital natives and adapted to the changing environment?
Electrolux started their digital D2C journey in 2014 when they only had 5 stores across Europe, all of which were outsourced to a third-party platform. They soon recognised that there was huge potential in terms of the size of the market and profits, and decided that it was necessary to take the function in-house. Not only that but owning the consumer touchpoint has many positives.
The business has accelerated a lot and currently, everything is done in-house. They have 58 stores on the aftermarket side and 28 on the finished goods side. The customer journeys are vastly different on the two sides, which is why they were kept separated, but at the same time fully integrated – consumer experience is seamless across touchpoints. They're operating in an omnichannel environment with three brands mainly in Europe: Electrolux, AEG and Zanussi.
Currently, the D2C business includes many channels, the brand's own webstore being one of the most obvious, but they also have many successful company programs with paid partners such as benify. There's also a Friends and Faminly platform, marketplace segment, technician/internal service providers, contact centre and the branded app. Multichannel build can get quite complex and requires resources, but these are all relevant channels for Electrolux.
One of the most valuable assets – data
The reason why Electrolux has all the different channels is not mainly about selling more products, but instead how much consumer data they can possess and how much of that they can turn into lifetime value. Not just for the D2C channels but the group as a whole. Leveraging consumer data and personalisation is the key focus in owning the D2C system.
Why is owning data so important then? Handing over data and sharing data about customers has become a lot more complex with recent regulations. Therefore, it's necessary to own the consumer data and specifically to be able to focus on the consumer data that's relevant for the company. By handing the channel build yourself, data is something that you get complete control over.
"Get your data right and understand what data is useful for you based on the business objective and what you're trying to achieve. Don't think that a CDP will solve anything – it's more about what you're able and willing to do with the data." – Mikael Meijer, Electrolux
Owning data enables creating the best possible consumer experience for your customers. The customer relationship can be leveraged to drive business value through the personalisation of CX/UX and the products/services offering. Owning the D2C platform also offers perfect control over a multitude of different valuable functions, including service sales, cross-selling, upselling, retention, getting referrals and getting cost savings.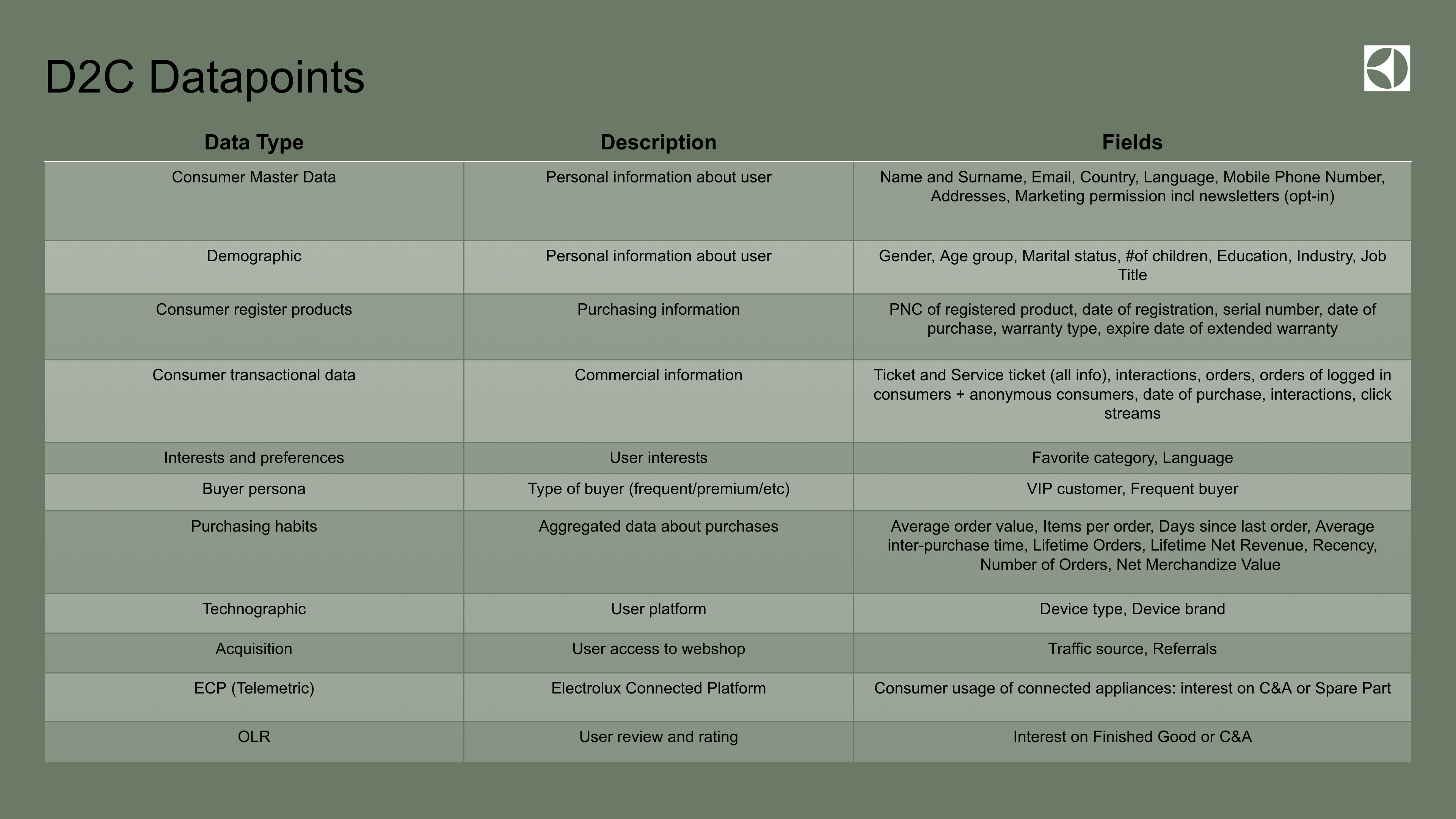 The system behind Electorlux's D2C functions is very complex but if put simply, they're aggregating, using, evaluating and modifying data to apply to many use cases. Electrolux bridges both hardware and software in adapting business models. This becomes useful especially when they've noticed that a product hasn't found the right fit in terms of go-to-market strategy and sales. Then it becomes the data team's job to analyse what kind of other opportunities or strategies the product still has.
"The systems behind D2C data functions are very complex, but don't think of it as something challenging because otherwise nothing will get done. Just try to think of things as simply as you can and go back to the roots of the business – what are you actually trying to achieve with this data." – Mikael Meijer, Electrolux
Case: Using consumer data to create a new business model for a cleaning unit
Electrolux's robotic cleaner Purei9.2 is one of the best robot hoovers on the market, but it was struggling to find product/market fit. The price point was high, and didn't match the ideal target group for the hoover at all. They then looked at the characteristics of the unit and rethought the product placement.
Rather than pushing a product to the market, they took a look at the product user behaviour and data. They realised that basing the business model on m² cleaned could potentially be more interesting than basing it on units sold, as the amount of m² cleaned scaled exponentially vs. the linear numbers of units sold.
They did a thorough analysis on how they could deliver what consumers are actually looking for, where it a person who wants their apartment cleaned every day or a student who cleans once per week, and how the numbers make sense for each consumer in terms of having the experience of using this product.
Result: Electrolux opted for a business model where the customer pays per cleaned m² instead of a fixed fee, which allowed them to speak about the product to consumers in a completely different way. They for example had a campaign where they advertised to students that they could switch one pizza per month to an automatically hoovered apartment. With this PPU model, Electrolux has seen great results for this robotic cleaning unit.
Case story: Moomin Characters
Background and challenges of Moomin Characters
Moomin, now a 76-year-old brand originally created by the author Tove Jansson, has grown into a worldwide phenomenon with TV series, theme parks and beloved products sold all over the world. Predominantly Mooming operates in the licencing business instead of retail, and Moomin is one of the top 20 licenced brands in the world. They have approximately 800 licensees worldwide with over 750 million € revenue in sales.
Moomin Characters' own retail stores are mainly located in Finland, from which they ship globally. In addition, they have some retail stores in the UK and dedicated online stores in the UK and Germany. A big part of the work currently focuses on generating awareness in countries where Moomin is not that well known, for which learning to know their customers is crucial. Including the licencing business, most of the business is located in the Nordics and Japan, accounting for 85% of sales, while China, UK and Germany are growing quickly.
To some, it might come as a surprise that Moomin doesn't actually manufacture anything. That means that they focus on overseeing and growing the brand, but they don't get to see what happens in the D2C space, which is left in the hands of their partners. That means that Moomin Characters doesn't see the actual transactions or get the data or insights, which is one of their largest challenges at the moment.
Moomin Characters has two main challenges: they don't know their customers well enough and they have too many data silos. They don't get to see all the different touchpoints of how customers interact with the Moomin brand – they don't know whether the customer bought a Moomin mug after seeing the TV series and going to a theme park. With 800 partners, they basically have 800 data silos which they can't even tap into due to technological or legal barriers. Moomin Characters get to see merely 1% of the total annual Moomin sales.
Moomin's solution: Lean data ecosystem
Moomin Characters wanted to have a better understanding of the customers and how they interact with Moomins. Therefore, they decided they needed to strengthen their own retail to catch more of the customer sales and to enter new markets. Since they already had quite a bit of data in the ecosystem, they needed to consolidate the data and merge it into different platforms that are able to interact with each other. They basically built platforms that would allow them to get more customer data, sales data, and behavioural data and therefore get better insights.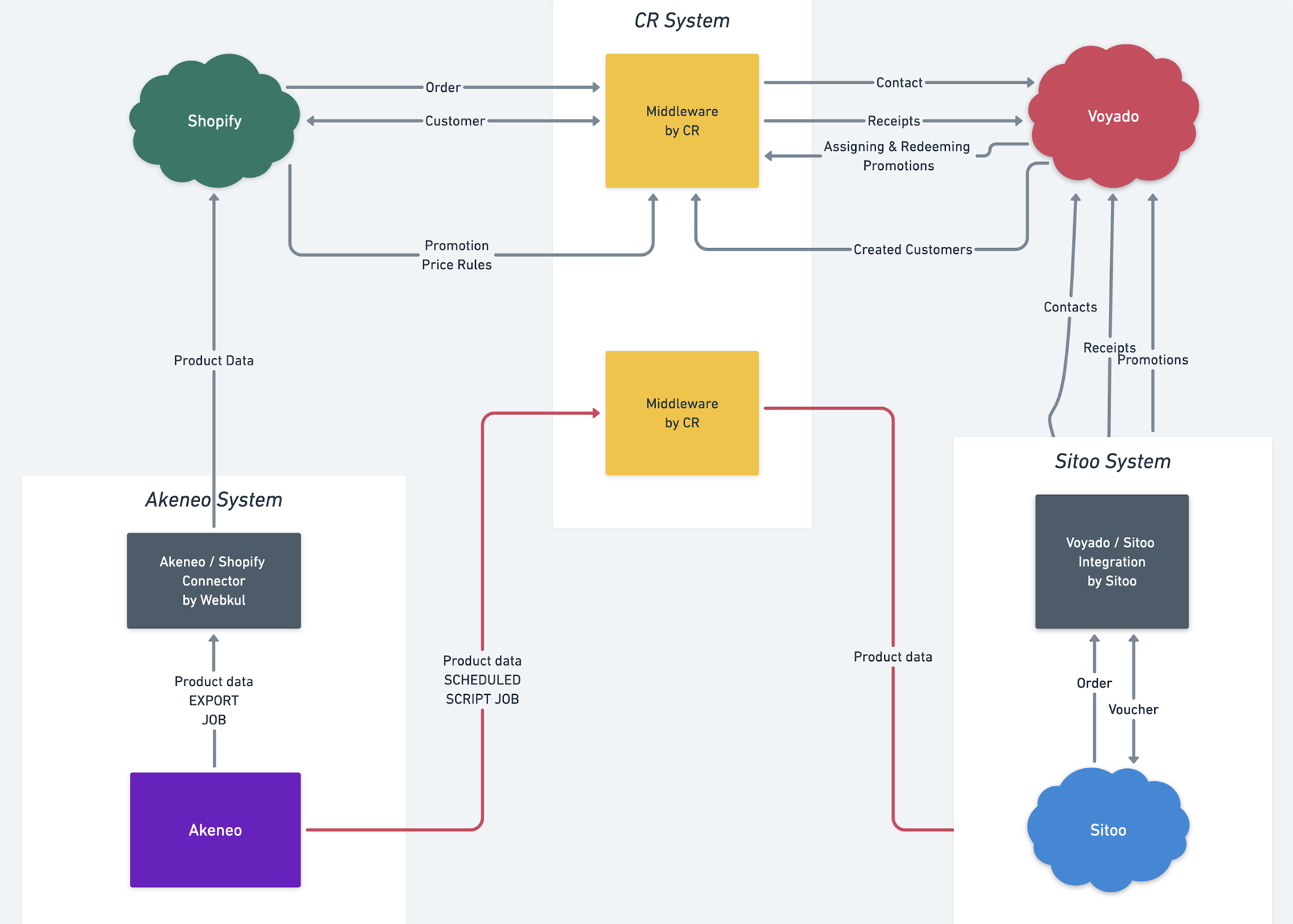 Moomin Characters' new ecosystem model
When the ecosystem was built, it was decided that opening a new store should be really simple, allowing them to easily enter new markets both online and offline. Hence, the technology was kept very lean. If you're interested in learning more about how the ecosystem was built in practice, read more from this case story: Building an ecommerce platform that scales for multiple product and customer areas. Strategy-wise entering a new market as a process looks like this:
Online first – ship globally
Establish local online
Build awareness
Collect data
Enter physical retail
Repeat
---
Make sure to take a look at the Digital Sales 2025 trend report to get an overarching view of the key trends shaping digital consumer sales across the five customer journey stages. The report includes interesting examples from some of the most interesting brands in the industry: Amazon, Nike, Adidas, Walmart, Pinterest etc.
The Data Handbook
How to use data to improve your customer journey and get better business outcomes in digital sales. Interviews, use cases, and deep-dives.
Get the book