The Data Handbook
How to use data to improve your customer journey and get better business outcomes in digital sales. Interviews, use cases, and deep-dives.
Get the book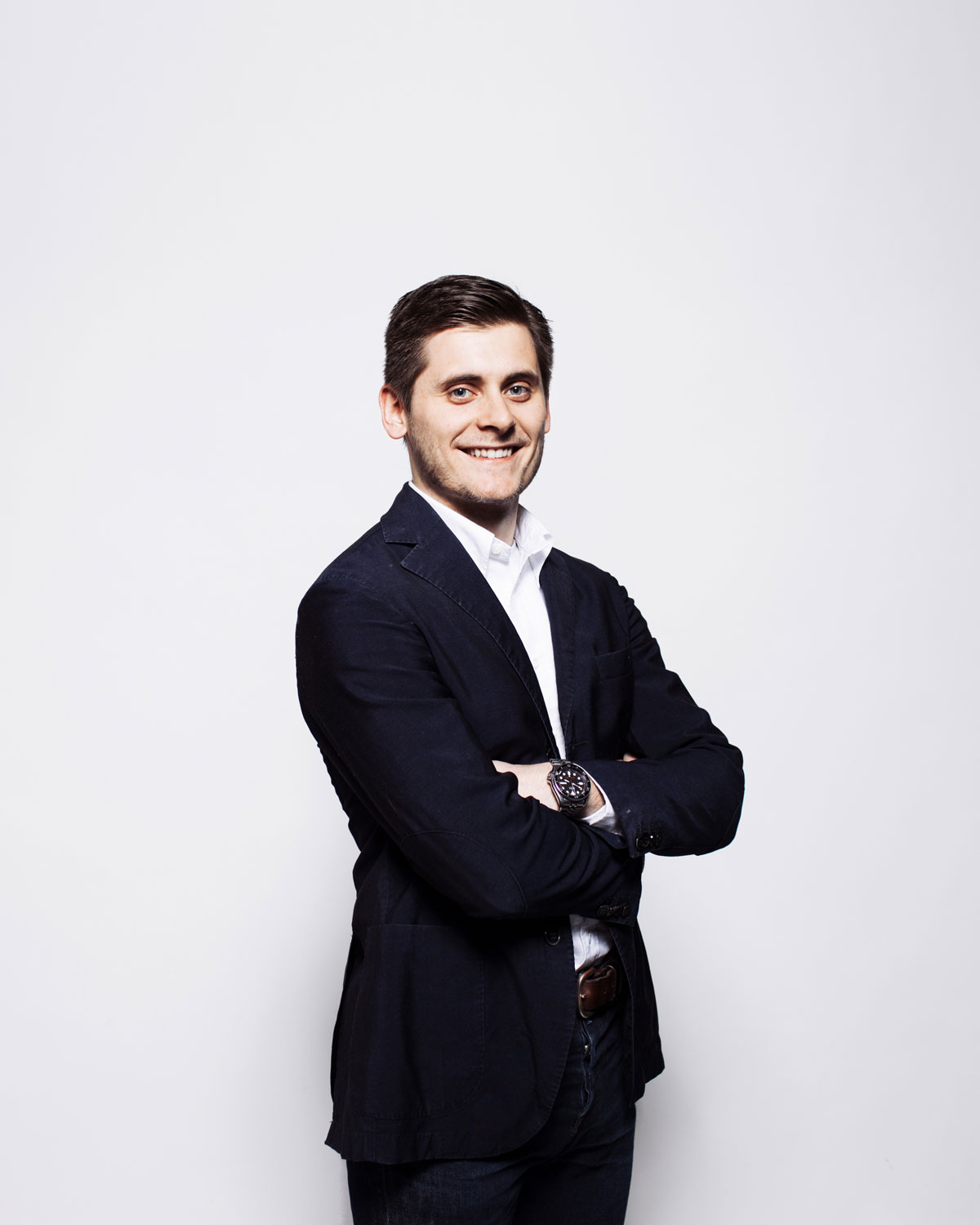 Lauri Eurén
Business development
LinkedIn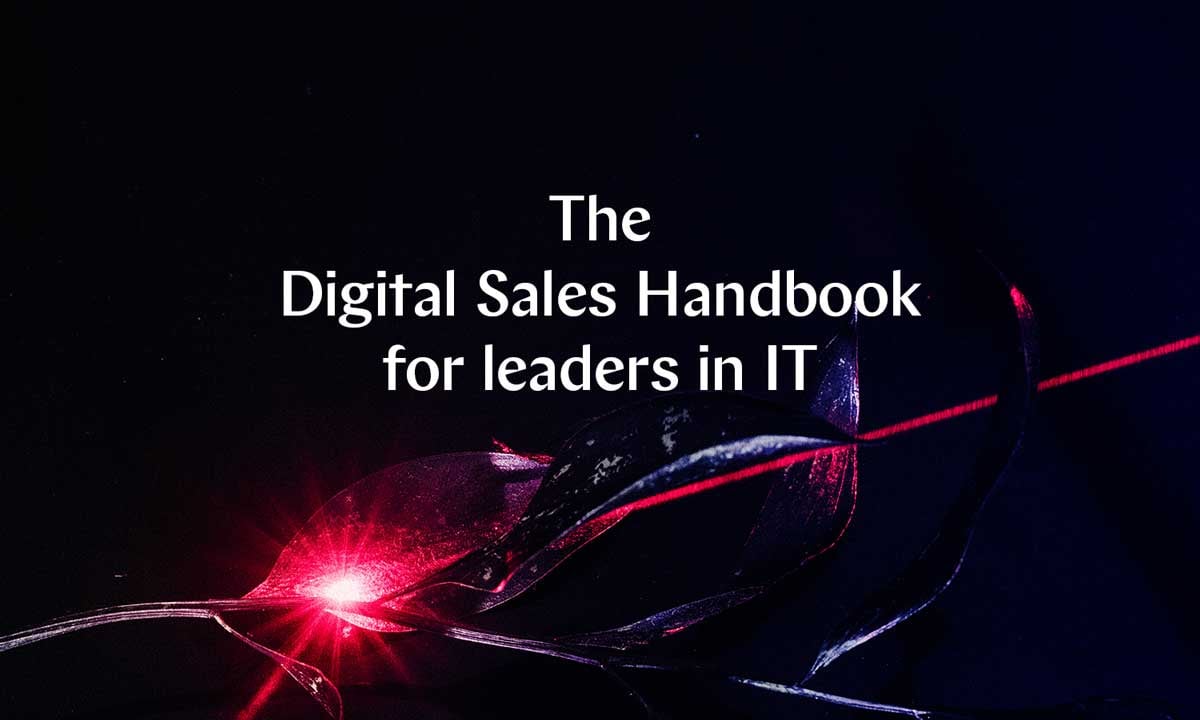 IT has never been the end-goal in and of itself, has it? As IT professionals, we are enablers. One could say, IT enables employees of most companies to do their jobs, and therefore IT enables those companies to reach their maximum potential.
This blog is part of our book: The Digital Sales Handbook for leaders in IT. Be sure to claim your own free copy of the book.
Author introduction:
Lauri Eurén, General Manager
Lauri is passionate about all things related to ecommerce, and currently runs Columbia Road's Swedish business as the General Manager. His strengths lie in data-driven business development, critical strategic thinking, analytics and statistical analysis.
Traditionally, a typical KPI in IT would be the number of projects you take on each year. In 2021 and beyond, this mindset needs to change. Instead, as IT decision-makers, we need to be looking at how IT delivers value.
An example would be setting up a new CRM system with the goals of better lead management and enhanced nurturing opportunities. Here, the implementation of a CRM system is not the end-goal in itself and a business case is closely tied to it. What we need is value, finding ways to leverage the system fast and focusing on revenue goals past the six-month project.
Ask the question, "How do we get real business value out of each project?" Optimise for fast time-to-market, which looks beyond the approach of an old-fashioned waterfall type of project where your focus is on requirements, use cases and planning the architecture.
Let's try this approach instead.
What about taking a revenue-first approach? Perhaps you could build a minimum viable product (MVP) in just a month, along with a solution that won't cover all the use cases, but which you can take into use in some way. And then you start working with what you've built. Then, maybe in parallel, you start working with another project that is a big system that will cover all the use cases.
The point here is this: leading IT with this type of thinking enables you to get something done during an ongoing IT project, as opposed to an IT project that starts delivering (if all goes well) once it's finished. Focus on exploring new ways to get something done fast, where the investment starts providing returns quicker and more gradually, as opposed to sometime in the distant future. Even today, many companies don't realise that such simple actions produce almost immediate results.
Companies often tell us something like, "We're putting out this RFP to our vendors because we have this new system coming up and once it's up and running, we can start doing thing X because we have the system in place to do it".
Our response is always: "Shouldn't we look at ways to try to do something earlier? Currently, you'll have to wait four months for a decision to happen, then nine months for the project to complete, then another three months for an organisational transformation in ways of working. Here you are, almost 1 ½ years later, and you haven't even started doing thing X".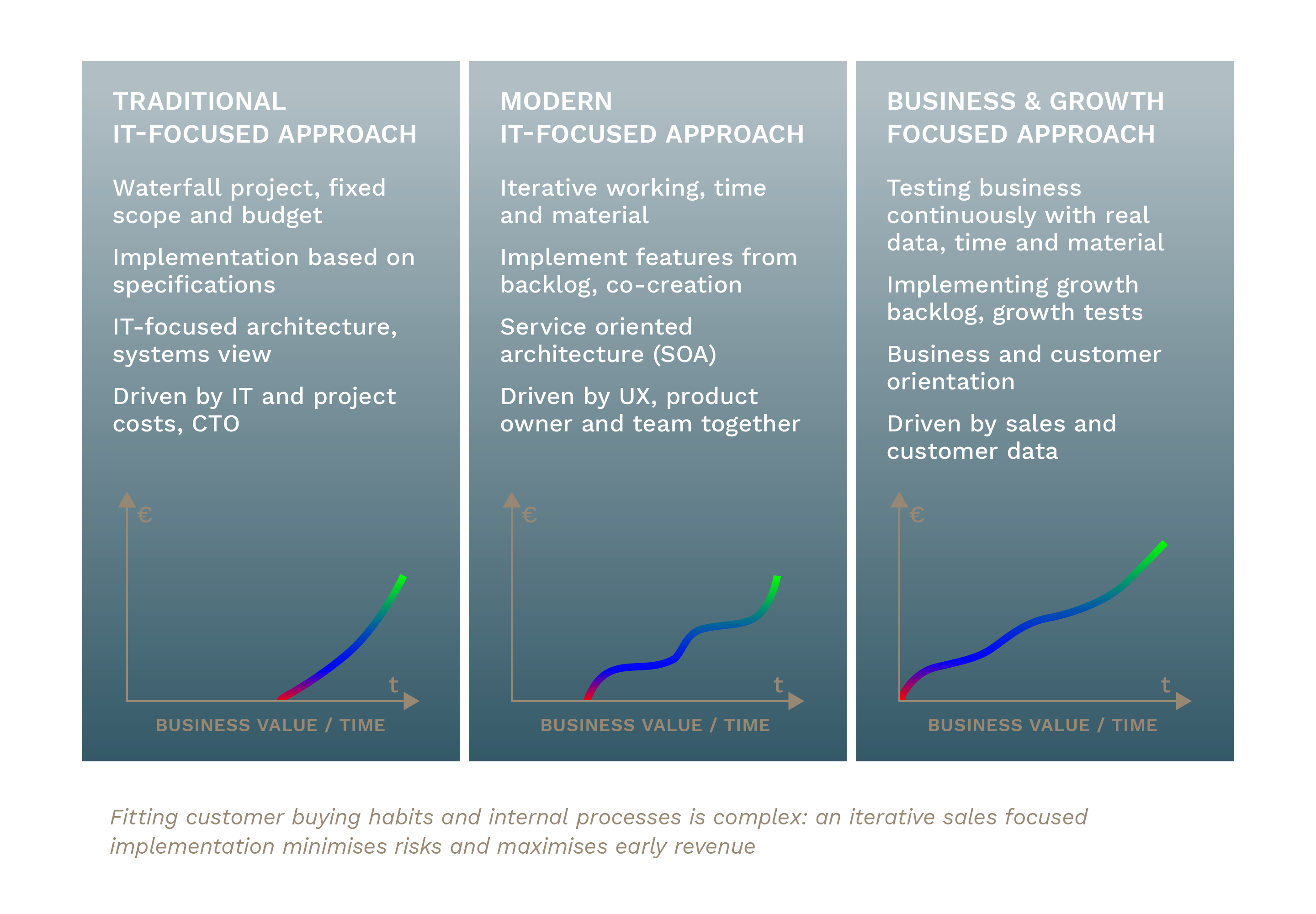 Going beyond this mindset allows CIOs and IT leaders to offer easier ways for business stakeholders to make better decisions. IT goals and KPIs should be aligned with various business units anyways. Quite simply, if there's no incentive for IT to offer solutions that enable faster time-to-market and increased revenue, it won't be done. Incentivising is the only way to motivate larger groups and organisations. That's just reality.
Cloud-based solutions have helped with the mindset shift
In many larger companies and enterprises, IT provides the company with custom software and architecture. Many are not ready for a change in mindset. Not yet, at least. You know the story: a proprietary system that's been custom-built and tailored over the years, heavily invested in, and has basically become their baby. In a lot of these cases, the company policy is set in stone. No chance of moving forward with a more modern and agile solution. Not today.
On the other hand, some companies are taking the cloud-based approach too far, building a cloud product ecosystem rather than building a business architecture. While cloud solutions enable business objectives to be realised more quickly, every decision should be made with business KPIs in mind. In addition, the architecture should initially be designed in such a way that you are not dependent on a single ecosystem provider.
Sometimes IT leaders will have to step on someone's toes, or do things and propose solutions that aren't in the company's playbook. In a company running on something like Microsoft Dynamics, for example, there might be some pressure to continue using that solution. But it's not necessarily the right solution.
However, we're pleasantly seeing a shift in mindset. We're seeing people both from IT and business driving change based on business needs. And IT leaders are more and more open to the new way of getting stuff done because they see the value of a revenue-driven approach.
No, faster time-to-market is not free
In fairness to those companies that haven't yet made the shift, faster time-to-market does come with a cost. Usually, it comes in the form of a subscription fee and a commission based on whatever is being sold. When it comes to leveraging external third-party solutions, larger companies might be optimising for the total cost of ownership. And if they've previously developed something in-house, there might not be any room to take anything additional on. On the other hand, a properly established cloud architecture should free up a lot of time to proactively drive the business forward. So it is a balance that has to be constantly reviewed.
The people aspect
The balance between happy employees, happy IT and happy customers must be considered as you move forward. There are many tangibles, including the business objectives and KPIs, the mindset change, and the change in internal communication, that are reversing the traditional siloed ways of working.
This also means that IT leaders and their people need to evolve. IT is no longer just about the technical side. Yes, there will always be a need for IT experts who are very interested in hardware, networks, email and wireless. But now more than ever, IT also needs to consider the business objectives and the sales targets. It's a fundamental change we're seeing in all areas.
Keep the following points in mind:
Seek ways for IT and individual experts to make an impact (not just technically)
Find and develop the right types of people, considering where to find business-minded product owners and tech-savvy business owners
Think bigger than traditional IT, meaning beyond just servers, routers, networks, and other hardware
For companies to maximise their potential, IT decision-makers will need to become more strategic in their thinking, more business-oriented and better prepared to enable sales. To reach those time-to-market and revenue targets, IT must have the right people in place.
Data-driven product development
In addition to the right people, you need data and you need to know how to make it useful to be more impact-driven as an IT organisation. Think about ways to provide business units, sales and marketing with meaningful, analysed data of your services, products and customers. While most modern SaaS companies do this quite well, data-driven product development is something that all IT leaders should be actively considering.
Integrating a new solution into your overall customer journey data should be a standard checkbox in your IT architecture governance playbook. If IT keeps providing new features customers aren't using, look for ways to feed that information back to your team and enable product development analytics to guide your revenue-focused way of doing things. Don't just ship new features and be done with it.
Climb out of that silo, and take others with you
An overarching theme throughout this book is encouraging IT leaders to protect their teams from the silo effect. Educate your teams to get out of the silo. Encourage cross-functional meetings with other areas of the company, especially sales and marketing. Arrange informal get-togethers to get to know different key decision-makers in your organisation.
If you or someone in your team is sitting there alone and with no clue as to what's going on in different business units, you might come up with this "great" plan (all by yourself): "Hey, we should look into getting some AI capabilities because everyone's talking about AI. Yes, surely we need that, too."
But if IT would instead have more discussions with business units, they'd see that this is probably not at all what they need. Those discussions are the first steps in not going IT-first, but instead revenue-first. After all, in IT we are enablers.
---
This blog post is part of the Digital Sales Handbook for leaders in IT. The Handbook is a crystallisation of the key themes leaders in IT need to understand in 2021 to push their digital-enabled sales forward. The book includes interviews with industry experts from companies including Stora Enso, SAS, UPM and Tiger of Sweden. Learn how your IT can become an active driver for digital sales!
The Data Handbook
How to use data to improve your customer journey and get better business outcomes in digital sales. Interviews, use cases, and deep-dives.
Get the book